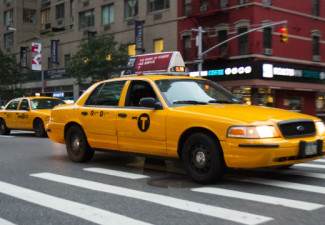 According to police reports, a woman is dead and a man arrested for homicide after a Bronx accident in which the victim was struck while riding in a cab.
Investigators said that a Dodge Charger rear-ended a Mercury Marquis taxi while it was stopped at a red light at the intersection of Rosendale Avenue and the Cross Bronx Expressway. The taxi passenger, Pamela Pimentel, 27, was sitting in the back seat at the time of the accident. She was severely injured and rushed to Jacobi Hospital where she later died from her injuries.
The cab driver, 54, was injured and taken to Einstein Hospital. He is in stable condition. Later in the week, the cab driver spoke to reporters through his union representative, Fernando Mateo of the Federation of Taxi Drivers, stating that he was knocked unconscious by the impact from the Dodge Charger.
The driver of the Dodge Charger, Hernan Vega, 37, remained at the scene and was charged with operating a motor vehicle while intoxicated, vehicular manslaughter and criminally negligent homicide. Both he and his 29-year-old passenger were treated at Jacobi Hospital for minor injuries.
When The Worst Happens: Wrongful Death Cases
When a loved one, such as a parent, spouse or child, is killed in an accident that was caused by someone else, the survivors may experience crushing grief and may not be able to function for some time after the accident. However, the time is relatively short to file a wrongful death lawsuit, so it is important that you turn this matter over to someone who can help you with this type of litigation.
When filing a wrongful death case, specific types of damages can be claimed. These include:
Damages and costs incurred by the deceased from the moment of the accident until death. This can include medical expenses, lost wages and even funeral and burial expenses.
Losses experienced by the deceased person's family, including the spouse and/or children. This can include lost wages that the deceased would have earned until anticipated retirement.
Loss of consortium, which is a claim that covers the emotional loss of love and companionship. This can include the loss of a parent with children who are minors and are now deprived of that parent's guidance.
When you are facing the devastating loss of a loved one due to the negligent actions of another, it is important to seek legal aid from experienced personal injury attorneys like those at the Fitzgerald Law Firm in New York. With over 42 years of experience aiding the victims of malpractice, personal injury and wrongful death, the team at the Fitzgerald Law Firm can help you build your case, negotiate a settlement and even represent you in court.