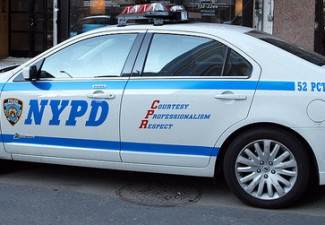 An elderly man is in critical condition at a hospital after being hit by a police car on Broadway near 78th Street. The homeless man was hit while the police car sped up the street with lights and sirens blazing, according to officials. It is unclear if the officers were responding to an emergency call. There were at least two uniformed officers from the 20th Precinct in the car at the time of the crash. The officers were not injured.
The victim was rushed to the hospital in cardiac arrest. Witnesses said the man "went up and came down," probably a reference to the impact of the car knocking him up and into the air. Witnesses also said there was a great deal of blood at the scene.
Deadly Broadway?
So far this year, two people have died while crossing Broadway at West 96th. In response to the danger of crossing this busy street, the NYPD has added six officers with radar guns to the area to crack down on speeding.
According to the New York Department of Motor Vehicles, there were a total of 15,223 pedestrian-involved crashes throughout the state in 2012. Of these, 316 victims, including four of the drivers, were killed. There were also 14,996 pedestrians and 428 drivers injured as well as 199 passenger injuries.
What Should I Do If I Am The Victim of A Pedestrian Accident?
If you are injured in a pedestrian crash, you should immediately seek medical attention, whether you are the driver, the passenger or the pedestrian. Any injuries should be treated by trained medical personnel at the earliest possible opportunity in order to minimize the physical and possibly the emotional trauma of the accident.
After you have sought medical attention, it is important that you protect your rights by talking with a personal injury attorney. The Fitzgerald Law Firm has been representing New York accident victims for many years. Those who have been injured in any type of accident can find compassionate professional legal representation with The Fitzgerald Law Firm.
As a victim, you may be entitled to collect several types of compensation from the person responsible for your injuries. This compensation could include medical bills, sums for pain and suffering, lost wages and other costs associated with your accident. Contact The Fitzgerald Law Firm today to learn more about how you may be able to collect money to pay for your accident expenses.