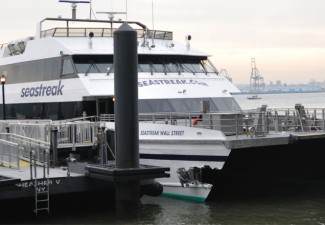 The National Transportation Safety Board ruled that the captain of the Seastreak Wall Street was "confused" by the ship's controls when he crashed the ferry into a New York pier last year, injuring dozens of passengers. The Seastreak Wall Street runs between Atlantic Highlands, New Jersey, in an area near the Verrazano Bridge, to New York. The captain apparently had the ferry on manual control at the time of the crash because he believed the propellers were fouled.
Investigators ruled that the poorly-designed controls of the ship caused the experienced captain to unnecessarily use manual controls and to attempt to dock the ship that way, although the ferry is not designed for manual docking. Instead, it uses a combinator mode that assists the captain in bringing the ship safely into dock.
The NTSB cleared the captain of wrongdoing, saying that he was experienced and conscientious. The agency noted that the problem with this particular ship has been noted for many years. The NTSB has repeated two recommendations that they have made after past ferry actions which have not yet been implemented, including installing safety-management systems and voyage-data recorders. The Coast Guard has not implemented these changes due to cost.
The ship was carrying 326 passengers and five crew when the accident occurred, injuring 79 passengers and one crewmember. Four of the passengers sustained serious injuries.
What Should I Do If I Am Injured In A Boating Accident?
In and around New York City, people take ferries and ships every day to get to and from work, travel to see family and for other reasons. Over 65,000 people per day travel on the Staten Island Ferry alone. With such large numbers of water passengers, it is easy to understand how accidents can happen and cause injuries.
When these accidents are caused by human error, faulty equipment or both, there may be liability on the part of a person or company. This means that the victims may be able to sue for damages and recover compensation for their injuries. This compensation can pay for medical bills, lost wages, increased living expenses and other costs as well as for the victim's pain, suffering and emotional trauma due to the accident.
Contact The Fitzgerald Law Firm to learn more about how you can protect your rights if you have been the victim of any type of accident, including a water crash.