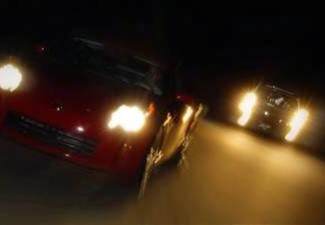 A devastating crash that may have been caused by drag racing took the lives of five Farmingdale High School students in Nassau County, according to police reports. Cody Talanian, 17, died after being hospitalized for one day, while Jesse Romero, 18, Carly Lonnborg, 14, Tristan Reichle, 17, and Noah Francis, 15, died at the scene of the crash. Two other victims in an SUV were seriously injured.
According to witnesses, the group had eaten and played games at Dave & Buster's before getting into a vehicle driven by Reichle. What happened next is unclear, but the car, a 2001 Nissan, crashed into a GMC Suburban on Conklin Street when it crossed into the eastbound lanes of traffic. The 53-year-old SUV driver and his female passenger were transported to an area hospital.
While the police have not confirmed that the teens were drag racing another vehicle, witnesses have come forward who said they were in the car that was racing the teens on Conklin just prior to the crash.
Drag Racing: A Serious Hazard for Youth
According to the National Hot Rod Association, an organization dedicated to safe and legal racing, there were 135 deaths from illegal racing in 2001, the last year for which the organization has kept records. Further statistics show that for every 1,000 people who participate in illegal street racing, 49 are injured or killed.
Motor vehicle accidents are the leading cause of death for teens 16 to 20 years old, and every year nearly 6,000 teens die in car crashes. Clearly, street racing, which appeals to many young people, is part of the problem of early death for teens from car accidents. Therefore, many states have very strict laws and will quickly take away a teen's license if he or she is caught racing.
Comparative Liability in Car Crash Cases
New York is a state that subscribes to the theory of comparative liability. This means that even if a victim is partially responsible for his or her own injuries, that victim may still be able to collect damages from an accident lawsuit if the victim can show that someone else was negligent as well. The amount the victim can collect is reduced by his or her "fault" in the accident.
The Fitzgerald Law Firm in New York is ready to help you recover compensation for your car crash injuries. Contact us today for more information.