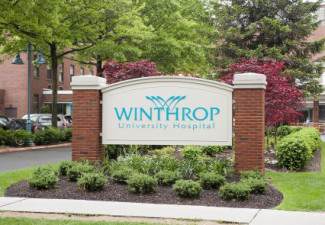 Brooklyn mom Stacey Galette, 33, sued Winthrop University Hospital and won $62 million for a minor procedure that went horribly wrong, according to a recent report.
In 2009, Galette went to Winthrop University Hospital for a laparoscopic removal of an ectopic pregnancy. Ectopic pregnancies occur when an embryo implants outside of the uterus. These pregnancies are often dangerous and can cause internal hemorrhaging or even death if left untreated.
During this relatively simple procedure, Galette's colon was punctured, causing massive infection in her body. During her illness, her heart stopped multiple times. On top of heart trauma, Galette developed gangrene, leading to a double amputation of her legs.
Galette has said that her life after the surgery deteriorated as she was unable to walk or even style her daughter's hair. She was also unable to work, which put a severe strain on her financial situation.
In January, a jury returned a verdict in favor of Galette, finding three doctors responsible for the botched procedure and resulting trauma. Though the attorneys for the doctors filed a motion for a new trial, citing that the evidence was contrary to the verdict, the judge dismissed the motion, ultimately awarding Galette $62 million.
Supreme Court Justice Ann Pfau stated that "the jury's verdict is supported by the evidence, both with respect to defendant's liability and with respect to her devastating physical injuries and her economic damages."
Medical Malpractice Suits
Though surgical errors do not occur in every procedure, they still affect thousands of people yearly. Not all medical errors can result in a malpractice case, however. To claim malpractice, the victim must show that the consequences of a procedure caused injury and were caused by negligence. For example, not all cases of infection mean that the victim can win a malpractice case. If a patient falls victim to an infection, the infection must have been caused by negligence and must have resulted in a medical complication. If an infection is caused by a doctor's negligence and results in a serious problem such as gangrene, a medical malpractice attorney may be able to help a patient win a malpractice case.
If you believe you have grounds for a malpractice suit, it is important to realize that these claims are quite complex. It is important to seek the help and advice of a medical malpractice lawyer. The Fitzgerald Law Firm, based in New York, offers the help of lawyers who possess an extensive background of success in malpractice cases. With over 40 years of experience, the Fitzgerald Law Firm can provide critical legal guidance to those who have suffered at the hands of doctors and other medical professionals.