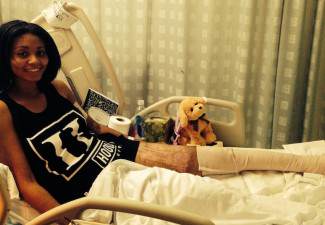 Liza Dye, an aspiring comedienne, fell off a New York City subway platform and was struck by an arriving train in February of this year. The 25-year-old survived the accident, but suffered severe injuries, including a broken fibula. During a three month-stay in the hospital, Dye underwent nine surgeries.
Dye claims that on February 13, while waiting for a train at a Soho station, she fainted and fell off a boarding platform onto the tracksand was struck by an arriving train. She was then rushed to Bellevue Hospital Center.
Despite Dye's overall jovial mood during her stay in hospital, the aspiring stand-up comedienne's condition remained grave. The train injured her leg severely enough to require very painful daily treatment; doctors considered amputation of the limb. Dye refused to proceed with this option, though at times the pain was so intense that she considered it.
Malpractice Nightmares
Fortunately, Dye was able to avoid the added trauma of unneeded amputation; unfortunately, others are not so lucky. The medical misstep of unnecessary amputation continues well into the 21st century, according to Medical News Today; moreover, such gratuitous procedures are just one form of medical malpractice.
The website Listverse.com relates several all-too-common mistakes by medical professionals:
During surgery in 2012, Enrique Ruiz received second-degree burns after surgery-related electronic equipment malfunctioned, causing an explosion in his oxygen supply; the hospital failed to proactively reveal the incident to the patient. Over 650 surgery-related burns are reported annually.
Leaving a surgery-related tool in the body of a patient is another well-known hospital error. After his surgery at the University of Pittsburgh Medical Center, Daryoush Mazarei was found to have a 10 inch medical protractor sown in his chest. It was only removed after filing several complaints and seeking legal action.
Courts have also found hospitals negligent for removing a patient's healthy organ or limb. In 2000, Graham Reeves, a 70-year-old Welshman, died after surgeons removed the wrong kidney. Willie King, a diabetic, sued University Community Hospital in Tampa, Florida, after his right leg was amputated by mistake; doctors had to amputate the correct leg as well.
Medical personnel are only human, and will make their share of mistakes. However, when mistakes cause patients to become victims, they have the right to rectification and just compensation. If you or someone you know has suffered the life-changing trauma of medical malpractice, do not risk additional misfortune by directly dealing with a hospital's legal team. Contact the expert personal injury attorneys at The Fitzgerald Law Firm in New York for a free consultation.