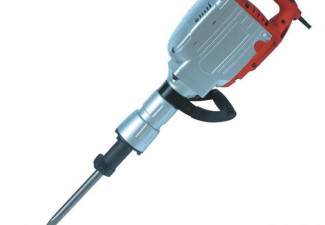 Construction accidents are often deadly or cause serious injury, but some are bizarre as well. This was the case in a recent incident in which a jackhammer chisel flew through the fourth floor of the Asphalt Green Recreational Center and injured one worker. The jackhammer was found to have been in use at the construction site outside the recreational centre. This is the site of a new garbage transfer station and delivery route that cuts between the recreation center's swimming area and playing field.
Because of the location of the site and the proximity to the rec center, fears have been raised that children might be injured. At the time of the accident, 400 children were playing in the field next to the main center. "We were just lucky the chisel didn't go in the other direction," says Carol Tweedy, senior adviser to the Transfer Station project. The employee who was injured, Robin Cocking, suffered cuts and bruises and was taken to the local hospital for treatment.
The workers at the construction site were believed to have been hoisting a manhole tube up that was supported by the jackhammer chisel, which then came free and crashed through the window. Many called the building of a garbage transfer station during summer camp hours "an ill-conceived project" and believe the company should have done more to guarantee the safety of the children playing in the field right next to a busy construction site.
Construction Injuries Among Top Workplace Accidents
Injuries on or around construction sites are certainly nothing unusual. According to the Occupational Safety and Health Administration or OSHA, more than 19 percent of all workplace injuries take place in the construction field.   While not all of those injured are construction workers, these workers represent the majority of injuries, including those of "the Big Four": electrocution, falls, caught on/in and struck by an object.
Whether you are a construction worker or an innocent bystander, if you have been injured in a construction site accident it is important to protect your rights. When you contact the Fitzgerald Law Firm at http://www.lawfitz.com/ or visit us for a free consultation at our Yonkers office, you will learn more about how you can protect your rights and possibly recover monetary compensation for your injuries, including payment of medical bills, lost wages and sums for pain and suffering. Call us today for more information.