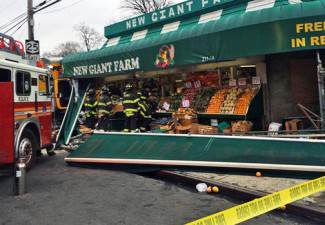 Several people were injured when a rental truck collided with a school bus and another car then crashed through the front of a store in Queens, according to recent reports. The crash pinned a customer beneath the truck and trapped the driver inside. Both were pulled from the wreckage and rushed to a nearby hospital, along with one of the children from the school bus who was said to be badly injured. Other children were also taken to local hospitals for evaluation as a precautionary measure.
The accident occurred at New Giant Farms, a market on Hillside Avenue in Queens Village. A total of 31 people were taken to area hospitals, including 24 children from the bus. The front of the bus sustained heavy damage, and the front of the store also sustained serious damage. The Department of Buildings will be assessing the structural integrity of the building before customers are allowed to return. The NYPD is working to reconstruct the accident.
School Bus Accident Facts and Statistics
School bus accidents are not very common. School buses have many safety features including their bright colors and flashing lights that alert drivers to slow down and be careful in their vicinity. However, there are still cases each year in which school buses are involved in accidents, often due to the negligence of other drivers rather than that of the school bus driver.
According to the National Highway Traffic Safety Administration, only .34 percent of all traffic fatalities since 1998 have been school-bus related. Of the 1,564 people who died in school bus crashes, 72 percent were occupants of other vehicles. Nearly 20 percent of the victims in these accidents were pedestrians or bicyclists. The remaining eight percent were occupants of the school buses.
While school bus accidents are uncommon, they can certainly cause serious injury or death if the bus is struck by another vehicle, particularly at high rates of speed. Children on the bus may be injured and parents may incur large medical bills.
What Should I Do If My Child Is Injured In A School Bus Crash?
If your child is injured in a school bus crash, it is important for you to speak to a personal injury attorney immediately. The attorneys at the Fitzgerald Law Firm in New York are ready to help you and your child recover compensation to pay for your losses and injuries.