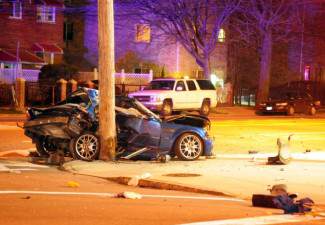 A Bronx man was killed when his car was struck in an intersection and sent crashing into a utility pole, according to recent reports. Alvin Fuster, 43, of Hunts Point was traveling west on East 22nd Street when he was struck by another vehicle traveling north on Eastchester Road. Fuster died about 30 minutes after being taken to Jacobi Medical Center.
Three women inside the other vehicle, ranging in age from 20 to 25, were taken to Montefiore Medical Center with minor injuries. Investigators are trying to determine if Fuster ran a traffic signal or if the other driver was at fault for the crash.
Intersection Accident Statistics
The most likely place for a serious accident to occur is at an intersection, according to the National Highway Traffic Safety Administration. A recent study by the NHTSA showed that about 36 percent of all collisions occur at intersections, and one of the drivers was at fault for the crash in 96 percent of those cases. The most frequent reasons cited for intersection crashes are:
Inadequate surveillance, 44 percent
False assumption of other driver's action, 8 percent
Turning with obstructed view, 8 percent
Illegal maneuvers, 7 percent
Internal distractions, 6 percent
Misjudgment of gap or speed of other driver, 6 percent
The other 20 percent of intersection-related crashes can be attributed to various driver error. Ultimately, in any intersection-related crash, what becomes important is learning which driver committed the error so that he or she can be held accountable for damages.
How Can I Hold Another Driver Responsible For My Injuries?
If you have been hit at an intersection by another driver, he or she should have to pay your medical bills, lost wages, expenses and even sums for pain and suffering. However, it is not always easy to collect these funds from the at-fault driver. That driver and his or her insurance company will most likely fight having to pay any money and will try to blame you with the accident or convince you to settle for a small amount of money.
Instead of fighting this battle alone, contact the personal injury attorneys at Fitzgerald Law Firm in New York. We have years of experience in helping victims like you recover compensation in all types of car accidents. Call us today for a free, no-obligation consultation to discuss your case. We can help you understand what you need to do to recover money to pay for your injuries and expenses.