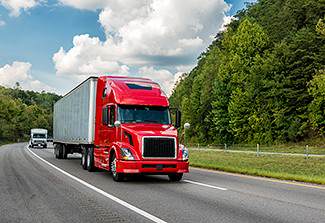 A tractor-trailer rollover has caused a fire and closed part of the Adirondack Northway near Albany, according to recent reports. The crash occurred near Exit 10 at Clifton Park. There was no immediate word on injuries, although New York State troopers confirmed that the crash touched off a brush fire, leading to major traffic delays. Vehicles were re-routed to Interstate 87 as investigators worked to find answers to why the tractor-trailer capsized.
The accident occurred just after a fatal tractor-trailer crash involving a Troy man on Route 4. In that crash, the victim's car was seen wedged beneath the trailer of the semi. Police confirmed that Paul E. Dambrowski, 62, was killed in the crash. There is no word yet on the cause of that accident.
Semi Trucks and Danger To Passenger Vehicles
Statistics have consistently shown that occupants of passenger vehicle are at risk when they share the road with semi-tractor-trailer trucks. These vehicles are far more massive than the average passenger sedan, which usually weighs between 4,000 and 5,000 pounds. In contrast, a "large truck" weighs at least 10,000 pounds when empty, while a fully-loaded semi can weigh as much as 80,000 pounds. This makes the loaded semi 20 times heavier than the average car. Simple physics states that the more massive a vehicle is, the more force it carries when it strikes something.
This abstract concept becomes clear when we examine the statistics regarding large truck crashes. Although large trucks account for only four percent of the vehicles on the highway, they are responsible for about ten percent of all fatal accidents. In 2012, large trucks accounted for about 4,000 deaths and more than 100,000 injuries nationwide.
Further, large truck accidents are much more dangerous for passengers in other vehicles than for the truck drivers themselves. About 83 percent of all victims of truck accidents are someone other than the occupants of the large truck, including both passengers in other vehicles and pedestrians.
The Difficulties of Managing a Truck Accident Case
While it is clear that victims often suffer in truck accidents, collecting compensation for that suffering is not as simple as it would seem. Truck accident cases are often very complicated, involving violations of federal and state regulations, collection of large amounts of evidence and complex liability structures.
If you have been the victim of a large truck crash, contact the experienced attorneys at the Fitzgerald Law Firm in New York today for help.