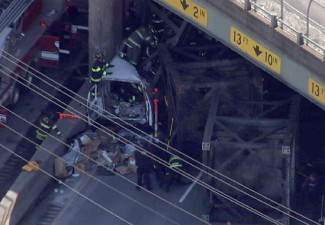 Two men were trapped in a delivery van after a tractor-trailer dropped a crane on their vehicle, according to recent reports. The accident took place near Secaucus, New Jersey on Route 3, between Harmon Meadow Boulevard and I-495. The crane hit Paterson Plank Road overpass and fell off the tractor-trailer and onto the delivery van, which then hit a pillar near the overpass.
Firefighters responded to the scene and cut the two men free, transporting them immediately to a nearby hospital. There is no word on their condition or prognosis, or whether any charges have been filed in the case.
Heavy Equipment and Large Trucks on the Highway
Heavy equipment and large trucks often mean danger for people on the highway. When a large truck crashes, it often means that the victims are seriously injured or killed. More often than not, those victims are the occupants of a vehicle other than the large truck.
When heavy equipment is added to the mix, the danger to innocent bystanders becomes even more apparent. The average commercial crane, for example, adds several tons to the weight of a truck that is carrying it. In addition, the crane may add several feet of height, causing it to hit overpasses that the truck could normally pass under. This may have been what happened in this case.
Liability for a Large Truck Accident
When a truck operator misjudges the height of an overpass and strikes it, sending debris raining down on innocent victims, the truck driver as well as his or her employer may be at fault. This means that the truck driver can be individually liable for damages, but the company that employed the driver may also bear the burden of paying for medical bills, pain and suffering, lost wages and other costs associated with the accident.
Truck drivers and the companies they work for are not like the average car driver. It is important to understand the differences in suing a trucking company and suing the average motor vehicle operator in order to have a successful outcome to your case. When you are injured in a trucking accident, you may need the help of a personal injury attorney to gather information and evidence about your case and pursue damages. Call the attorneys at the Fitzgerald Law Firm in New York for more information if you have been the victim of a trucking accident.