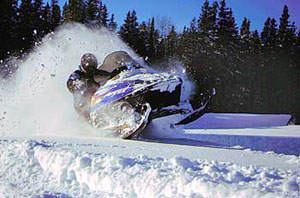 A 26-year-old man is dead and another missing after a snowmobile accident caused them to fall through the ice on the Lac St. Francois, according to recent reports. The spot where the men are believed to have broken through the ice while snowmobiling is part of the St. Laurence Seaway where the St. Lawrence and Salmon Rivers meet. Divers located the two snowmobiles beneath the ice. Brandon Sweeting's body was found on the ice, while the other man remains missing.
Family members reported the two missing after they failed to return home from an afternoon snowmobile run.
Winter Sports Accident Facts
Winter sports, like all types of sporting activities, can be dangerous. While skiing accidents are more common than other types of winter sports accidents, a number of people are also injured each year on snowmobiles.
According to the National Institute of Health, modern snowmobiles weigh in excess of 600 pounds and travel up to 90 miles per hour. Every year, these vehicles result in an average of 200 deaths and 14,000 injuries. Alcohol use and driver inexperience are the leading causes of accidents, but these crashes can also be caused by faulty equipment or negligence on the part of landowners.
Liability for a snowmobile accident could arise from:
Faulty design or construction of the snowmobile that leads to a crash. If the design or manufacture of the snowmobile is faulty, a crash could result, leading to death or injury.
Failure to warn of danger. If a landowner has reason to believe snowmobilers will be on the property, that landowner has a duty to warn the riders of potential hazards.
Failure to address dangerous situations. If snowmobilers could be placed in danger due to foreseeable circumstances, those responsible for the danger must act to remove it before anyone is hurt.
If someone is partially or completely responsible for a snowmobile accident, it is important to hold that party accountable. A personal injury lawyer can help you do so.
How Can A Personal Injury Lawyer Help Me In A Snowmobile Accident Case?
The attorneys at the Fitzgerald Law Firm in New York are ready to help you in your snowmobile accident case by representing your interests in settlement negotiations as well as by representing you in any court appearances necessary to secure compensation for your injuries. Contact these experienced personal injury lawyers today for a free consultation.