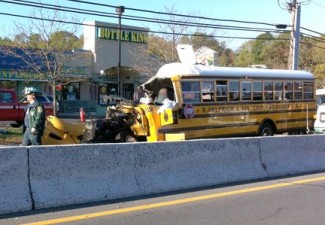 A school bus driver in Middletown, New Jersey, was hospitalized after she sustained injuries in a crash that involved a semi truck, according to recent reports.  The 65-year-old driver was freed from the school bus by rescue workers after it plowed into the back of a truck that was parked on the side of the road on Route 35.  Witnesses described the bus as "totally destroyed."  The driver was airlifted to the Jersey Shore Medical Center in Neptune City.  Reports say that she sustained non-life-threatening injuries.
The truck driver apparently left his tractor-trailer parked alongside the busy road illegally while he went into a convenience store.  He ran away on foot after the accident; police are currently searching for him.  Witnesses also said that the bus driver may have been blinded by the sun and may have been unable to see the semi truck's wheels hanging out into the roadway.
Authorities are asking anyone with knowledge of the circumstances of the accident or the driver's whereabouts to come forward.
Is A Rear-End Accident Always My Fault?
Many people assume that if they rear-end another vehicle the accident is automatically their fault and that they cannot collect any compensation.  However, this is not entirely true.  While it is usually considered the fault of the rear driver when one vehicle rear-ends another, there can be mitigating circumstances that change the degree to which each party is responsible for the accident.
If drivers who rear-end another vehicle are shown to have complete responsibility for the crash, then they are usually responsible for paying all medical bills and expenses related to the crash.  However, New York also has a comparative liability doctrine that reduces liability for those who are only partially responsible for accidents.  For example, if a driver rear-ended another car but it was determined that the driver of the forward car was partially responsible for the crash due to stopping suddenly in the middle of the road, the forward driver's damages could be reduced by whatever percentage the jury decided.
If you have been the victim of a rear-end collision, or if you have been involved in a crash which may have been partly another driver's fault, contact the personal injury attorneys at Fitzgerald Law Firm in New York for help.  With years of experience, these attorneys can assist you in recovering compensation for your auto accident.