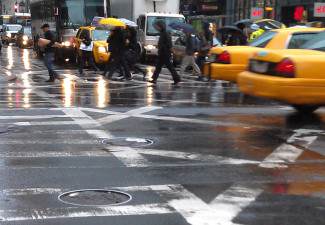 Cooper Stock, a 9-year-old from New York, was crossing the street when he was struck by a New York City Taxi Cab. The boy was aided by onlookers at the scene and was rushed to a local hospital, where he was pronounced dead. Cooper and his father were safely crossing and had the walk signal at the time, but the taxi failed to stop when it turned left off 97th Street onto West End Avenue, a notorious spot for fast drivers turning without watching for pedestrians. Witnesses claim that the cabbie appeared to be distracted at the time.
The accident left many completely distraught, not just for the tragic circumstances but because of the punishment handed down to the cab driver: He did not face any severe charges and only received a traffic violation and a small fine.
Pedestrians and The Rule Of Two
Many people questioned how the driver could get away with manslaughter so easily, but it is due to a controversial legal precedent that makes it difficult to prosecute drivers who run over pedestrians. The precedent is known as "the rule of two" which states that two misdemeanors need to occur for a charge of criminal negligence to be brought against a driver that kills.
The rule operates under the presumption that if you commit two offenses you are reckless enough to be charged with reckless driving, whereas simply hitting a pedestrian without any other offenses may not be reckless behavior. The rule of two is not actually a law but simply a precedent. This means that judges are reluctant to go against prevailing legal thought for fear of being reversed on appeal. Unfortunately, one of the results of this is that many drivers who have committed more than two offenses have not been charged with reckless behavior.
How Big Is The Problem?
Figures released by the New York State Department of Motor Vehicles Summary of Motor Vehicle Crashes show that there were 15,832 accidents involving motor vehicles and pedestrians in 2012. In many cases, the drivers faced very minor traffic charges rather than more serious felony charges for injury or death of these pedestrians.
If you suffer in an accident that was not your fault, you may be left feeling angry and worried. You may be unable to pay medical bills or left without an income. The personal injury lawyers at the Fitzgerald Law Firm can use their experience to fight for the compensation you need and attempt to deliver justice. Contact us now for a free consultation.