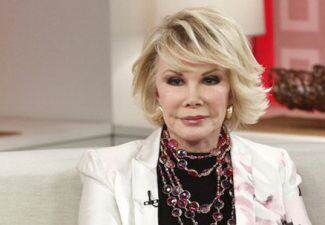 An eight-figure settlement has been reached in the medical practice case brought forth by family members of comedienne Joan Rivers against Yorkville Endoscopy in New York.
Rivers was undergoing a routine throat operation at the clinic in 2014 when she lost consciousness. She was placed on life support after being rushed to a hospital, but passed away about a week later at the age of 81.
It was later revealed that Rivers experienced brain damage due to lack of oxygen during the procedure at Yorkville. Her only child, Melissa Rivers, filed the medical malpractice suit shortly after her mother's death. Named in the suit were three anesthesiologists, an ear, nose and throat specialist and the clinic's medical director.
Negligence in Treatment of Rivers
According to reports, Rivers was at Yorkville for a laryngoscopy – essentially an exam that allows doctors to examine the back of your throat and your voice box – and an endoscopy, which utilizes a flexible tube to examine the upper digestive system.
Broken protocols by medical staff during the procedures include:
Dismissing one anesthesiologist's concern about Rivers' swollen vocal cords as being merely "paranoia"
Failure to react to the closing of the vocal cords, which would have relaxed the throat muscles and allowed for the insertion of a breathing tube
Not having personnel on-site who were trained to administer an emergency tracheotomy
The medical director actually using his cellphone to take a photograph of Rivers on the operating table
Dangers of Anesthesia
Our thoughts are certainly with the Rivers family for their tragic loss. Not surprising is the inclusion of three anesthesiologists in the suit. While generally regarded as safe, administering anesthesia is a delicate procedure that can result in devastating consequences if done incorrectly.
A study from the German Medical Association revealed that the worldwide death rate from improper anesthesia procedures is on the rise. According to their information, one in 20 patients worldwide will die from problems with anesthesia.
Causes of anesthesia errors include – but are not limited to:
Improper dosage amount
Failure to monitor patient and equipment
Defective equipment
Failure to recognize and act upon complications
Prolonged sedation
The Fitzgerald Law Firm: Specializing in Anesthesia Malpractice
For more than 40 years, the Fitzgerald Law Firm has handling claims resulting in multi-million dollar verdicts and settlements nationwide. For one client, we were able to secure $94.8 million in damages, the largest verdict in the nation at that time.
If you feel you have experienced medical malpractice in any form, we want to talk with you about your options. Call 800-323-9900 for a free consultation.