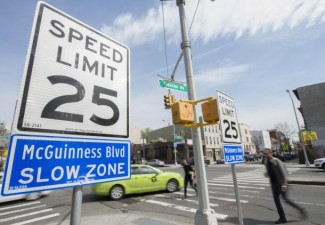 It has been almost a year since the Right of Way charge, a special part of Mayor de Blasio's Vision Zero initiative that aims to eliminate traffic deaths by 2024, was put into effect. Since then, it has been invoked 31 times and is one of the few tools that has been specifically designed to prosecute sober drivers who cause serious injury or death to cyclists or pedestrians.
In the past year there have been 11 cases in Brooklyn that were prosecuted under the Right of Way Charge law, 10 cases in Queens, 7 cases in Manhattan, 3 cases in the Bronx and none in Staten Island. In Manhattan, three cases have resulted in fines but no jail time for the at-fault drivers, though one driver did have her license suspended indefinitely.
There have been mixed feelings about the results of the new Right of Way Charge. Some in the City Council want to limit the types of crashes to which the charge can be applied. However, some safety advocates, including those who have experienced the dangers of cycling first hand, say the charge is being underutilized. In New York, one of the leading contributing factors to a pedestrian/cyclist-vehicle crash is "failure to yield right of way" by the vehicle. This has led activists to push for lowering the bar on the type of crashes to which CIS is called. This is in hope that more crashes that involve life-changing injuries are thoroughly investigated, even if the victim survives the crash.
If CIS was involved in these types of crashes, prosecutors believe that it would make pursuing traffic-related cases much easier, including those that would involve the Right of Way law. Prosecutors currently find it difficult to win cases against sober drivers because they must prove that the driver was criminally negligent, not just careless. CIS investigators are trained to gather evidence, like surveillance video or witness testimony, which falls under the new Right of Way charge, making it more likely that prosecutors would have the facts to pursue cases against these drivers.
As a result of recent data and information, Police Commissioner Bill Bratton has increased the size of CIS from 27 to 31 members and increased the size of the Collision Technician Group, which analyzes crash scenes, from 13 to 15 members. The NYPD is also developing a protocol and training for precinct officers so they can charge drivers under the Right of Way law.
Personal Injury and Cyclist Accidents
If you have been injured while riding your bike in New York, you are not alone. The team at the Fitzgerald Law Firm in New York has extensive experience helping the victims of cycling accidents seek compensation from the at-fault driver. Call us today for more information.