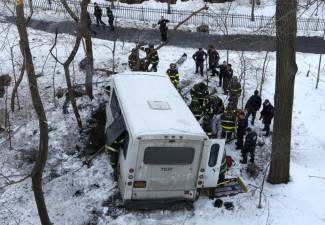 Two people were injured due to a bus crash when an Access-A-Ride bus went through a retaining wall and traveled down an embankment off the Henry Hudson Parkway, according to reports. The bus hit a tree at the bottom of the embankment. Both injury victims were taken to St. Luke's Hospital. A fire department spokesperson said that both victims are expected to survive, although one was said to have sustained serious injuries.
Public Transportation Injury Statistics
While traveling by public transportation is statistically safer than traveling in a private passenger vehicle, you can still suffer injuries in an accident on a bus or train. According to the United States Department of Transportation, there were more than 51,500 bus accidents and more than 11,400 train accidents in 2006, the last year for which data is available.
Many of these bus and train accidents involved non-public conveyance such as charter buses or privately-owned railroad cars. However, a certain percentage of these accidents involved public transportation such as subway cars or city buses. Additionally, there are also many lawsuits against public transportation agencies due to injuries sustained that do not involve an accident, such as someone slipping and falling on a city bus or on a subway platform.
Public Transportation Injuries and Personal Injury Lawsuits
Trains, buses and other public transportation vehicles are usually owned and operated by a city or county agency. In most cases, these agencies are the primary source of compensation for victims who are injured in transportation accidents. However, the driver of the vehicle as well as the people responsible for maintenance may also be named in a lawsuit if their negligence is responsible for injuries to victims. In such cases, there may be multiple defendants, each responsible for paying a certain percentage of the damages collected by the victims.
In order to ensure that your interests are protected when you are involved in a public transportation accident, it is important to speak to a personal injury attorney who is experienced in handling these types of cases. The attorneys at the Fitzgerald Law Firm in New York can help. We have many years of experience in handling cases involving all types of public transportation and can assist you in dealing with city, county or state agencies in order to collect the full amount of compensation available for your injury. Call us today for a free consultation.