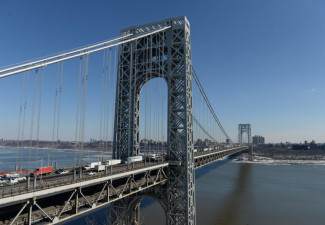 A crash on the George Washington Bridge left one person dead and another injured, according to recent reports. The accident occurred when a Honda Accord carrying four passengers collided with a tractor trailer on the bridge, according to Port Authority Police. The collision occurred on the upper level of the bridge and left two passengers pinned inside the vehicle. Port Authority tunnel and bridge agents were able to extract both victims, who were rushed to Harlem Hospital where one was pronounce dead.
An investigation into the cause of the crash continues.
Fatal Crash Rates High In New York
New York County has one of the state's higher fatal crash rates, with an average of 181 people per 10,000 licensed drivers involved in crashes in 2013. This is a crash rate of nearly two percent of all licensed drivers in New York County. Of these crashes, about 152 drivers are killed or injured, meaning that an incredible 84 percent of all crashes result in some form of injury to the drivers or passengers involved.
The high level of fatal and injury crashes in New York may stem from the crowded conditions on most highways. It is not unusual for drivers to experience long wait times on bridges such as the George Washington Bridge or in the tunnels such as the Lincoln Tunnel around Manhattan. However, even alternate routes that take drivers around the city can be crowded and dangerous, especially during rush hour.
While it is impossible to avoid traffic in New York, basic safety features such as seat belts should always be used. The damage from any collision can be made much worse by failing to obey speed limits, failure to use safety restraints or by engaging in dangerous behavior such as drinking and driving.
I Have Been In A New York Traffic Accident. What Should I Do?
Even if you take all necessary precautions, it is still possible that you could be involved in a car accident with injuries in New York. If you have been the victim of a New York car accident, contact the personal injury attorneys at the Fitzgerald Law Firm in Yonkers. Our professional and compassionate attorneys have helped hundreds of people like you collect damages for injuries sustained in vehicle crashes, pedestrian collisions and other types of accidents. Contact us today for a free consultation about your case.