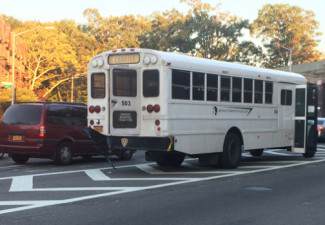 A bus carrying special needs adults crashed in Glendale with nine people on board, injuring all of them. The crash also injured the drivers of the bus and the car involved in the accident, according to recent reports.
The car and bus crashed on Woodhaven Boulevard and 82nd Road. It was unclear which driver may have been at fault. Both drivers were listed in serious condition, while the nine special needs adults were all treated for minor injuries.
Car and Bus Crash Statistics
Buses do not crash as often as other types of vehicles, but when they do they are often involved in crashes with passenger cars. According to a study by the Federal Motor Carrier Safety Administration:
Travel by bus is safer than other methods. Fatality rates for passenger cars are about six times higher than those of buses.
Curbside carriers, such as intercity buses run by private companies, have a fatality rate seven times greater than conventional carriers.
31 percent of all drivers involved in fatal bus accidents have been cited with driving errors prior to the crash.
Bus companies with 10 or fewer coaches and those which had been in business 10 years or less were more likely to experience fatal crashes.
Bus companies that provide transportation services for paramedical groups such as special needs adults or ambulatory patients are often run by private companies. If a crash occurs, the injured parties may need to seek compensation from these companies rather than from the city or other government agency providing the service.
Who Is Responsible for My Bus Accident Injuries?
Bus accident cases can be very complicated. There may be layers of liability that include the driver, other drivers, the company that operates the bus, the city or county that funds the bus service and even against other passengers. In order to separate the liability issues and file a lawsuit against the right person or people, it may be helpful to have the assistance of a personal injury attorney with experience in handling these cases.
The lawyers at the Fitzgerald Law Firm in New York can help you if you are the victim of a bus accident. Our attorneys will review your case and help you pursue compensation for your medical bills, pain and suffering and other costs from the people who are liable for your accident. Call us today for more information.