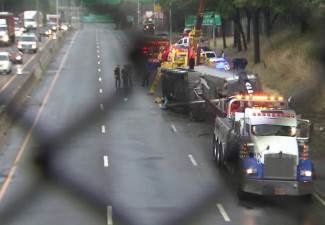 An overturned truck on the Long Island Expressway shut down several lanes and caused major delays and caused undisclosed injuries to the driver, according to a recent report. All westbound lanes were closed while officials worked to clear the wreckage of the large truck, which overturned between the Clearview Expressway at Exit 27 and Springfield Boulevard at Exit 28. There is no word on what may have caused the crash. The 38-year-old driver was taken to a local hospital.
Large Trucks, Jackknives and Rollovers
Large trucks are susceptible to several types of crashes due to their size and center of gravity. Of particular concern on crowded freeways are jackknife and rollover accidents. Jackknife accidents occur when a trailer swings forward, causing a v-shaped configuration that can crush a car between the cab and the trailer. Rollovers occur when the trailer, cab or both twist and roll upside down.
More than half of all truck driver deaths occur in rollover crashes. Rollovers are more likely when the trailer is fully loaded; in fact, fully-loaded rigs are 10 times more likely to roll over than empty ones. Jackknife accidents are common when trailer wheels lock up, often due to a driver stopping suddenly. Truck drivers must use extreme caution to prevent accidents caused by other drivers slamming on their brakes.
What Should I Do If I Am Injured In A Truck Accident?
The vast majority of people injured in truck accidents are not truck drivers but those in passenger vehicles. A truck rollover, jackknife or other type of crash can easily injure those in cars that happen to be nearby. If you have been injured in a trucking accident, it is very important that you protect your rights to recover compensation for your injuries.
Unfortunately, this may be easier said than done. Trucking companies and their attorneys work hard to limit their liability and exposure when a trucking accident occurs. Without an aggressive personal injury attorney on your side, you may find that it is difficult or impossible to recover compensation for your medical bills, pain and suffering, lost wages and other costs associated with your accident.
If you have been the victim of an accident involving a large truck, contact the experienced attorneys at the Fitzgerald Law Firm in New York. We are ready to help you recover compensation to pay for your injuries.