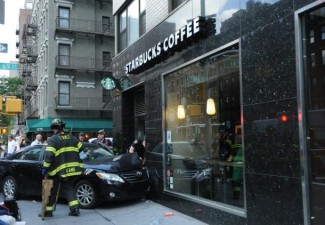 According to police, two separate crashes in Manhattan have left four individuals with injuries. The first crash occurred around 9:00 a.m. on E. 69th St. and First Ave. Police reported that the driver of a Toyota careened off the road and smashed into a Starbucks storefront.
Arthur Knight, 26, was working outside the store when the car clipped him. He stated, "As soon as I got hit, my foot was shaking." A witness stated, "He went straight through and crashed into the front of the Starbucks…He just lost control of the car." According to one witness, the driver swerved at the last minute to avoid hitting Knight. Both the vehicle's driver and Knight were taken to New York-Presbyterian Hospital with non-life-threatening injuries.
Several blocks away on Second Ave. and E. 48th St., the driver of a Mercedes was cut off by another car and forced to swerve. The 64-year-old driver hit two women who were stepping off the sidewalk. One woman, 24, was listed in serious condition. The other woman, 23, suffered a minor injury. Both were taken to Bellevue Hospital where they were treated.
Pedestrian Crashes in New York City
According to statistics from NYC.gov, 79 percent of crashes in New York City that kill or seriously injure pedestrians involve private vehicles rather than taxis or buses. Statistics also show that Manhattan has four times more pedestrian deaths and serious injuries per mile of street compared with the other four city boroughs.
When a pedestrian is hit by a vehicle, the victim a much higher chance of being injured or even killed than those in the passenger vehicle. This is because pedestrians do not benefit from safety features like seat belts, air bags or a vehicle steel frame. When a pedestrian is hit by a vehicle, it is often the driver's fault.
In cases in which a driver is at fault in a pedestrian-vehicle accident, the pedestrian has grounds to seek compensation for injuries. This compensation includes payment for medical expenses, lost income and even pain and suffering related to the crash.
If you have been injured by a vehicle while walking on a sidewalk or crossing a street, contact the personal injury attorneys at the Fitzgerald Law Firm in New York. Our team of experienced personal injury attorneys can help you build a solid case, represent you and your interests and seek the maximum amount of compensation for your injuries.