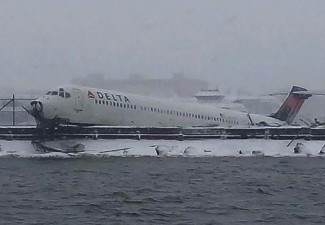 The crash of Delta Airlines Flight 1086 at LaGuardia Airport has been the focus of an intense investigation, and according to recent reports, the plane's brake system may have been to blame. The National Transportation Safety Board continues to review the evidence from the crash, including the actions of the pilot and the condition of the runway. Four possible causes have been suggested for the plane crash, including failure of the braking system on the Boeing MD-88 aircraft.
The flight was en route from Atlanta when it skidded on the tarmac and crashed through a fence, coming within feet of Flushing Bay. Several of the 127 passengers on board suffered minor injuries.
While the snow and ice on the runway may have contributed to the plane crash, several similar planes had landed just prior to the crash with no problem. Therefore, investigators believe that failed brakes or pilot error may be responsible for the crash.
Can I Recover Compensation from a Commercial Carrier?
If you are injured in an accident involving a bus, plane or train, you may be able to recover damages from the commercial carrier company for your medical bills and other costs. However, your ability to recover these damages is often dependent on the circumstances surrounding your accident and whether you take the right actions to win your case.
Cases in which you directly suffer injuries as a result of a common carrier accident are relatively straightforward. A common carrier company may pay your medical bills, sums for your pain and suffering, your lost wages and other expenses related to your injuries. However, there are also cases in which the relationship between the accident and your injuries may be more difficult to explain. For example, if you suffer post-traumatic stress disorder as the result of a common carrier accident, the company may argue that something else caused your stress.
Additionally, common carrier accidents can be very complicated if more than one company is involved. It is often a good plan to engage the services of a personal injury attorney who is experienced in this type of lawsuit.
How Can I Exercise My Rights To a Settlement or Award?
If you have been the victim of an accident caused by an airplane, a train, a bus or some other commercial conveyance, be sure to talk to the experienced personal injury lawyers at the Fitzgerald Law Firm in Yonkers. Our compassionate attorneys will work with you to ensure you recover the maximum amount possible for your injuries.