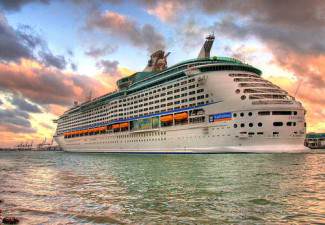 For many years, guests were unable to file and win medical malpractice suits against cruise lines because of the 1988 Barbetta law. This law stated that passengers should not expect the same level of medical care on cruise lines as on land because ships' doctors and nurses were private contractors, making them beyond the cruise lines' direct control.
In 2011, Pasquale Vaglio, a retired New York City policeman and veteran, fell and hit his head while aboard a Royal Caribbean cruise liner. After the accident, Vaglio was taken to the ship's nurse who suggested he rest. She failed to diagnose a serious brain injury which killed him days later.
A federal appeals court has now taken the Vaglio case into account and ruled that the law was outdated and that passengers on board cruise liners should expect the same level of medical care as on land. The court gave a number of reasons:
The Royal Caribbean doctor and nurse wore cruise line uniforms
They were presented as ship employees
The onboard medical center was praised in promotional materials
Modern cruise ships are sophisticated and can provide video conference links with medical experts back on shore
Judge Stanley Marcus wrote that "Much has changed in the quarter-century since Barbetta…We can discern no sound reason in law to carve out a special exemption for all acts of onboard medical negligence."
How Should I Proceed With My Medical Malpractice Suit?
Thousands of individuals suffer injuries due to medical malpractice each year. These injuries can be life-altering or even result in death. Medical malpractice cases can include, but are not limited to:
Improper medical treatment
Birth injury
Medication errors
Misdiagnoses or failure to diagnose accurately
Anesthesia errors
Surgical errors
Failure to obtain proper legal consent for a medical procedures
Failure to inform patient of risks
If you have been injured by a healthcare provider, speak with a medical malpractice attorney at the Fitzgerald Law Firm in New York. For over 40 years, the Fitzgerald Law Firm has focused on protecting the rights of their clients and helping them seek damages for medical malpractice injuries and hospital negligence. With extensive knowledge and experience, the team at the Fitzgerald Law Firm can help you pursue the outcome and results you and your family deserve. Call the Fitzgerald Law Firm today for a free initial consultation.