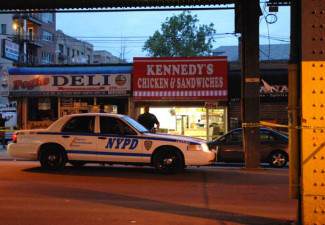 Police report that a 7-year-old boy was killed and others were injured when a car crashed into a restaurant in the Bronx. The driver has been identified as Kwasi Oduro, 73. Though he initially fled the scene, he has been apprehended.
According to reports, a Mercedes-Benz S.U.V. suddenly reversed into the front window of a restaurant in the Bronx around 5:30 p.m. One witness, Ali Ibrahim, 20, stated that he was in the back of the store when the incident occurred. "It was like an explosion…You heard glass shattering." When Ibrahim ran to the front of the store he saw that the vehicle had pinned the boy against the wall. It also struck his father, 34, and sister, 5. The victims were taken to Jacobi Medical Center where the 7-year-old boy, Ethan Villavicencio, was pronounced dead. The others remain in stable condition.
Oduro was arrested and charged with two counts of leaving the scene of an accident that caused injury and one count of leaving the scene of an accident resulting in death.
Wrongful Death and Children
New York's wrongful death statute (EPTL Section 5-4.3) lists two categories of damages in wrongful death cases:
Special damages – This includes funeral, medical and nursing expenses.
General damages – This includes losses to the decedent's survivors such as monetary income.
Unfortunately, there are no easy ways to claim damages under New York wrongful death law for parents' grief or emotional loss. The only instance where these types of damages are automatically applied is when a parent was at the scene and was either physically injured in the same accident or within the zone of danger.
The difficulty in claiming damages when a child is killed is that it is difficult to project the child's potential earnings in the future as he or she was not currently contributing monetarily to the family. Some seek this type of compensation by valuing the child's intelligence and likely education, as well as the parents' own economic situation. It can be very difficult to prove, but it can be done in some cases.
If you have lost a child and want to seek compensation for the many damages you have suffered, you will need a skilled and knowledgeable personal injury attorney to help you each step of the way. The compassionate team at the Fitzgerald Law Firm is here to give you the best chance at building a solid wrongful death case and setting yourself up for a positive conclusion.