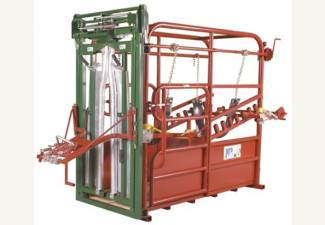 A freak accident sent an 8-year-old boy to a local hospital with head injuries, where he is listed in critical condition. The accident occurred at a local farm show in Seneca Falls, where witnesses say the boy had somehow gotten under a cow hoof trimming machine that was accidentally lowered on him.
In today's large dairy operations, cows will spend a majority of their milk-producing day standing on their hooves in a stationary position. This is extremely hard on the animal, so proper hoof care is necessary to maintain good health. A hoof-trimming mechanism is a box-like machine that uses a rear come-along system to restrain the head and limit the movement of the animal. The machine uses a hydraulic system to clamp and move the animal's hoof, allowing for proper care and cleaning. The machine is built primarily of steel, weighs approximately 4,300 pounds and utilizes the hydraulic systems to allow for a single person to operate it.
Safety First
Witnesses to the incident say the young boy was watching demonstrations with his father when he crawled under the machine. The vendor demonstrating the machine was not aware the boy had crawled under and continued with the demonstration, showing how the machine operates. The heavy machine descended on the boy, causing crushing injuries. Later reports advised the boy underwent surgery for his injuries and was listed in critical condition; however, it was not reported exactly what injuries the surgery treated.
When a person suffers from traumatic brain injury or TBI due to an accident, the neurological effects can include swelling and bleeding in the brain, seizures, unconsciousness, amnesia and loss of brain function. When treated immediately, the effects of TBI can often be significantly reduced. However, many brain injuries involve long-lasting effects that may impact the victim for the rest of his or her life.  Many brain injury victims are unable to work after their accidents and many others suffer life-changing disabilities.
The Fitzgerald Law Firm represents the victims of accident injuries, including TBIs and medical malpractice. If you or someone you love has suffered a traumatic accident due the negligence of another party, please contact The Fitzgerald Law Firm today and schedule a consultation for your case. It is important to protect your rights and collect payment for your medical bills, lost wages and other expenses. The Fitzgerald Law Firm is ready to help you recover damages for your injuries.