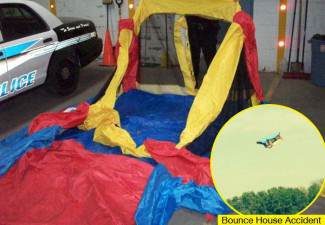 Kids love "bouncy houses," the inflatable toys that allow them to climb inside and bounce on a trampoline-like floor. These items are popular at birthday parties and other events. However, tragedy struck in South Glens Falls, New York, when a bouncy house suddenly became airborne in high winds, seriously injury two young children, according to reports.
The two victims, who remain unidentified, were hurt when a gust of wind blew the bouncy house off the ground with children inside. One five-year-old suffered facial lacerations and two broken arms when he fell from a slight height as the bouncy house became airborne, but a six-year-old boy suffered severe head trauma when he was dropped from a height of about 15 feet. The bouncy house eventually reached a high of about 15 meters or 50 feet before returning to earth.
Negligence in Children's Venues
While manufacturers and vendors must always be careful to protect customers from injury, it is especially important when children are involved. This is because children have less perceptive ability than adults and may rush into a situation where they could easily be hurt.
This case illustrates this point well. Children are not going to check to see if a bouncy house is secured properly or is safe for them to use; they are simply going to climb in and start having fun. It is up to the adults to ensure that the bouncy house is set up properly, tied down securely and safe for use or to keep the children from using it if there is a question of safety.
Liability Issues in Child Injury Cases
There are always several "layers" of liability in a child injury case. If a parent is negligent in providing supervision for a child, the liability of other parties may be lessened. However, if a parent has taken due precautions and a child is injured by another party's negligence, the parent may have the right to sue on the child's behalf for damages.
In a case such as this one, there are several important questions to be answered. Were the parents present? Were they watching their children? Did they assume that the bouncy house was safe because it was set up by professionals? If this is indeed the case, the company that manufactured the bouncy house and the people who set it up may be liable for the children's injuries.
Visit Fitzgerald Law Firm in New York if you have questions about a child injury case.