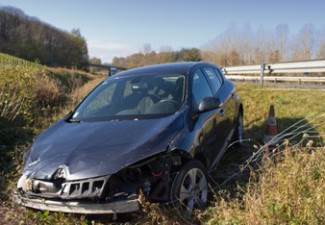 Driving is a skill, and it requires experience, knowledge of the road and the laws that govern every situation.  if a driver loses focus for even one second, it can immediately lead to disaster.  This is true whether someone is driving in a rural environment or along the crowded streets of New York, as anyone in or near a vehicle if it leaves the road is instantly forced into a position of extreme danger.  When it happens in a place like Brooklyn, many people can be injured or worse.
That appears to be what happened on Saturday evening.  An unknown male was driving a vehicle and allegedly lost control of it before jumping a curb while traveling in a northbound direction on Ocean Avenue near Voorhies Avenue in Sheepshead Bay.  As a result, one woman was critically injured and two other females  suffered minor injuries.  No word was given as to whether the critically injured woman was a passenger or one of the people on the sidewalk at the time the incident occurred.  None of the names of those involved were released to the public.
If the available information is accurate, then the situation could lead to the filing of New York personal injury lawsuits by the people who were injured in this crash.  These lawsuits tend to arise when something like this occurs and those who are injured are unable to secure fair and equitable settlements from insurance companies that are underwriting these drivers.  Successful lawsuits in New York prompted by these crashes can lead to recoveries of damages that compensate victims for past and future losses.
Unfortunately, this incident will now become a part of the overall statistics regarding New York car accidents.  Every year, more than 187,000 people are injured and more than 1,200 people are killed in these incidents.  If you are one of them, you need to take your own steps to make sure that your legal rights are properly protected.  This is particularly true if you feel that you are not being treated properly by insurance companies.  You can do so by contacting the New York accident lawyers at The Fitzgerald Law Firm today to schedule a free initial consultation.