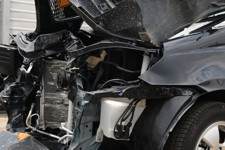 Anyone who is out and about in the city understands that the constant flow of traffic presents somewhat of a risk to them whether they are driving, riding a bicycle or walking.  However, few if any people who are gathered at a food cart would ever believe that they were in imminent danger of being seriously injured by a vehicle.  Unfortunately, that appears to be what happened last weekend when a total of seven people were hurt when a taxi cab slammed into a food cart in a Manhattan car accident.
According to the authorities, this Manhattan car accident occurred on Sunday at approximately 5 p.m.  The cab had been stopped at West 34th Street near 11th Avenue when it suddenly accelerated and hit another vehicle.  That collision sent the taxi cab careening towards the food cart, which it promptly crashed into and mowed down.  A total of seven people were injured in this crash, and none of the names of those involved were released.  The driver was taken into custody after the accident.
New York Car Accident Statistics
First and foremost, we'd like to offer our thoughts and our hope for the people who were injured in this Manhattan car accident.  We hope that they are able to make fast and full recoveries.  In addition, this crash will now become part of the overall statistics regarding New York car accidents.  Every year, more than 187,000 people are injured and more than 1,200 people are killed in these occurrences.
New York Accident Lawyers
This is a situation that could lead to multiple New York personal injury lawsuits being filed against the cab driver and perhaps the cab company by the people who were injured in this Manhattan car accident.  If such lawsuits are filed and they are ultimately successful, the plaintiffs in the cases could recover damages that compensate them for their different forms of loss.
If you or someone you love has been injured in a crash, you need to seek the help of New York accident lawyers who have been fighting for the rights of clients for more than 40 years.  Contact The Fitzgerald Law Firm today to schedule a free initial consultation.