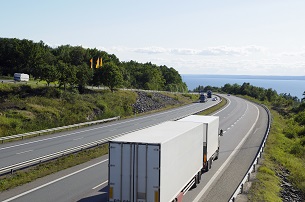 Earlier this year, a trucking company was ordered by a jury to pay $35 million  to the family of a woman one of their drivers killed in an accident.
The large price is a reflection of a growing trend of steep penalties in cases involving large trucks.
In this issue, we'll talk about what happened in the specific case and dive deeper into what's going on with the large payouts.
Why will trucking company have to pay so much?
In the case mentioned above, the penalty stems from the trucking company's failure to provide one of its drivers with snow chains.
The 42-year-old victim, who was also a Hospice nurse, was on her way to care for one of her patients when an 18-wheeler crossed an icy road and hit her car head-on. She was killed instantly.
During the trial, it was revealed that when the driver left his employer's terminal, he was not provided with snow chains for the truck.
Because he failed to pull over during extreme weather, the driver will have to pay 10% of the verdict. Due to their failure to provide snow chains, the driver's employer will pay the remaining 90%.
Are penalties on the rise in large truck accidents?

They sure are! According to an article from The National Law Review, even though fatalities in accidents involving large trucks have declined over the past decade, the award amounts have gone up.
In recent years, there have been numerous cases involving settlements or verdicts topping $20 million or more.
A Georgia widow settled for $42 million in 2011 because her husband lost his life after being struck by a truck driver who ran a stop sign. Even though a jury had originally awarded her $40.2 million, the award was increased to more than $55 million before she settled with the trucking company.
A Texas family was awarded $105 million after one of their members was struck and killed by a truck's drive shaft that had detached and smashed through his windshield. The jury ruled that the truck hadn't been properly maintained.
A 2014 incident garnering world-wide attention involved comedian Tracy Morgan. Morgan was one of several people injured – one fatally – when a Wal-Mart, Inc. truck was involved in an accident. The family of the man who died settled with Wal-Mart for $10 million. Morgan and Wal-Mart eventually settled for an undisclosed amount.
Injured by a large truck? Call The Fitzgerald Law Firm
When a crash involves a car and a truck, including a semi-truck, serious injury or death is often the result. Injuries can include amputation, broken bones, neck / back / spinal cord injuries, and traumatic brain injury.
The Fitzgerald Law Firm represents victims of New York semi truck accidents. For over 40 years, the firms have handled motor vehicle accident cases. We have recovered millions for accident victims, including a recent $5,730,000 verdict.
Call us here at The Fitzgerald Law firm.
The first consultation is always free, and our number is 1-800-323-9900.