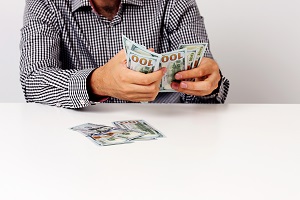 A Staten Island woman who broke her ankle in a slip-and-fall accident in the parking lot of the building where she worked has settled her case against the property owner for $200,000.
In this issue, we'll talk about the specifics of the case, and go into detail about slip-and-fall accidents.
How did the woman break her ankle?
As she was on her way into the building to begin her workday, the victim slipped in the parking lot where fresh snow had accumulated.
During the trial, the victim's lawyer was persuasive in arguing that the ice layer underneath a thin layer of snow was the reason the woman fell. It was also proven that the pitch and grade of the parking lot actually created a pooling condition, which resulted in ice forming in the sub-freezing temperatures.
What did the building owner say?
The defendant's main argument was that he had no obligation to clear the snow because it was still in progress. It's known as the "snow in progress" rule, which states in part that once a storm has stopped, the responsible party must clear the snow within a reasonable timeframe.
For example, if the snowfall stops between 7am-5pm, the snow must be removed within 4 hours.
What was the turning point?
The decision to settle may have been reached by the defendant when the victim's lawyer argued that the building owner had been on notice about the pooling problem but failed to correct the issue.
How common are slip-and-fall accidents?
They're actually quite common. In fact, the National Safety Council (NSC) says that nearly nine million visits to emergency rooms every year are the result of slip-and-fall injuries.
If You're Injured in a Slip-And-Fall Accident, Call The Fitzgerald Law Firm
If you or a loved one has been injured as a result of dangerous conditions on someone else's property, the landowner or business proprietor might be liable for your injuries.
Property owners are responsible for injuries that occur as a result of a dangerous or hazardous condition on their property, which the owner knew about, or should have known about.
The Fitzgerald Law Firm has successfully helped clients receive compensation for their pain and suffering, medical bills and loss of wages resulting from New York slip and fall accident injury.
Call us here at The Fitzgerald Law firm.
The first consultation is always free, and our number is 1-800-323-9900.