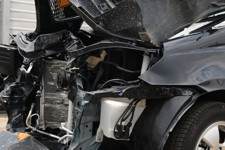 More than 187,000 people are injured in New York car accidents every year, and more than 1,200 others are killed. Sadly, many of these crashes receive some minor attention from the media, but then those stories disappear quickly. However, there are a few incidents every year that seem to ignite the ire of society at large, and one such accident occurred over the weekend when expecting parents were hit and killed in a Brooklyn hit-and-run accident.
To make matters worse, the infant, who was 7 months into his gestation, was successfully removed from his mother via C-section, but the child did not survive the crash and died the following morning. Police at this point have identified the driver and they are actively searching for him. The parents were riding in a livery cab at the time and they were on the way to receive medical treatment because the expecting mother was experiencing pregnancy pains.
The driver of the livery cab was also injured in the crash, but he is expected to survive. No one seems to know whether or not the driver who fled the scene was harmed, but that concern appears to be secondary at this point as police are dedicating massive resources to finding him. At that point, he will most likely face serious criminal charges, as members of the community have already called for law enforcement to seek the most expedient and harshest form of justice.
Perhaps it's because the people who were killed in this hit-run-accident were young and expecting parents along with an infant, but something has led to this story becoming national in nature. Perhaps it's because too many people across the country have been harmed by hit-and-run drivers who feel as though they have nowhere to turn for help since they are not able to identify the person who injured them in the first place.
Clearly, everyone hopes that the driver involved in this horrific crash is found soon and apprehended so that the justice system can begin to move forward. According to the federal government, more than 10 percent of all car accidents in the United States involve at least one of the drivers fleeing after the crash. That not only makes matters more difficult for law enforcement personnel who need to handle their duties, but it also makes the pursuit of a recovery of damages more difficult for those who suffer injuries as a result of these crashes.
However, it does not make a recovery of damages impossible. People who have been injured by hit-and-run drivers could still have legal rights and options available to them, but they need to be properly and thoroughly explored. These options could include pursuing a recovery from the injured person's own insurance policy or springing into action when the driver involved in the crash is ultimately located and apprehended. If you have been injured by a hit-and-run driver, contact the New York injury lawyers at The Fitzgerald Law Firm today to schedule a free initial consultation.