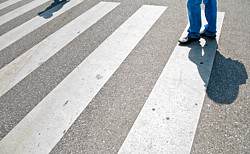 Every year in New York more than 15,000 pedestrian accidents take place.  These crashes lead to nearly as many people being injured and they also lead to more than 300 fatalities.  This statistic has been troubling in its consistency in recent years, and it should come as no surprise that so many of these crashes take place considering the heavy pedestrian traffic that is present in the city.  Unfortunately, there will be another addition to that statistic when the data is compiled for 2013, as a woman was badly injured in a Long Island pedestrian accident today.
The accident took place at approximately 10 a.m. when an unidentified 28-year-old man was allegedly swerving wildly on near North Shore High School, which is located at 450 Glen Cove Avenue in Glen Head.  At the same time, a teacher at the school was attemping to cross the street legally when she was hit and seriously injured by the driver.  After that initial impact, the vehicle veered out of control and slammed directly into another vehicle, and both occupants of that vehicle were also seriously injured.
At this point, police are not sure as to whether the driver who allegedly caused the crash had suffered a medical episode, was driving recklessly on purpose, whether he was distracted or whether he was under the influence of some sort of intoxicant.  What is known is that the driver was also seriously injured and he along with the three others who were hurt were rushed to a nearby hospital.  No update was given as to any of their conditions, and police are continuing with their investigation.
Accidents like this one tend to lead to the filing of New York personal injury lawsuits by the people who were wrongfully harmed.  In this situation, it seems possible that both the teacher who was hit and the people in the vehicle that were injured could have this legal option available.  However, their situations would need to be thoroughly reviewed before moving forward.
If you or someone you love has been injured because of the reckless driving of someone else, you need to seek the help of the New York accident lawyers at The Fitzgerald Law Firm.  Contact the firm today to schedule a free initial consultation.