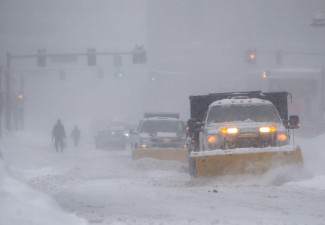 The winter storm Neptune, that is currently moving through the Midwest and into the Northeast has claimed several lives in weather-related accidents across the country, according to recent reports. One of these accidents was in New York when a young girl and a 33-year-old woman died on the New York State Thruway as the result of being rear-ended by a tractor-trailer truck. Another accident in Ohio killed a 24-year-old Buffalo man when he hit a tractor-trailer after being struck from behind.
In other accidents across the country, a pregnant woman and her unborn baby died in a multi-vehicle pileup in Ohio; a seven-year-old child in Indiana died in a multi-vehicle crash; and part of a roof collapsed from snow weight, displacing up to 80 people, in an apartment complex in Massachusetts.
Who Is Responsible for Weather Accidents?
Bad weather can cause several types of accidents, including car crashes and roof cave-ins as well as flooding and even fires. However, weather-related accidents are not always considered "acts of God." This term applies to an event that happened without any human negligence involved. In many cases, human carelessness contributes to or worsens these accidents and can lead to injury and death for innocent victims.
The key to determining fault in any accident is by measuring against a "reasonable person" standard. For example, it is not reasonable to expect someone with a large tree that is healthy and thriving in his or her yard to know that a tornado will touch down, break off a large branch and drop it on a car two blocks away. This would undoubtedly be considered an "act of God," and would not be thought of as negligence on the part of the tree's owner.
On the other hand, if a homeowner has a dead tree in his or her yard that has been dropping large branches for some time, and high winds send a branch hurtling down onto the next-door-neighbor's car, this is not necessarily an act of God. This may be considered negligence on the part of the owner of the tree, who should have cut it down before the incident.
Similarly, while the weather may play a role in a vehicle crash, the driver may still be at fault for not having control of his or her vehicle. This means the driver may be liable for damages even though there was bad weather at the time of the crash.
For more information on liability in an accident and how you may be able to collect compensation for your injuries, contact the experienced and knowledgeable personal injury attorneys at the Fitzgerald Law Firm in New York.