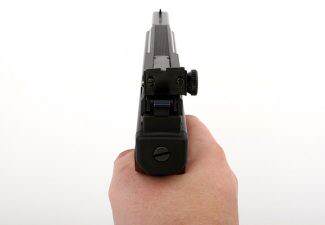 In a closely watched – and highly divisive – police misconduct trial, an ex-NYC police officer escaped prison time for the fatal shooting of an unarmed man in a Brooklyn stairwell in 2014.  Instead, the former officer was sentenced to five (5) years of probation and 800 hours of community service.
The sentencing came merely moments after the judge rejected a jury's verdict in February that the officer was guilty of manslaughter as well as official misconduct. The judge maintained that the shooting was an accident – a move that changed the charges from manslaughter to criminally negligent homicide.
The Brooklyn district attorney's office has already said they will appeal the ruling.
After the verdict was announced, the victim's aunt shouted in the hallway, "There is no justice! His life didn't matter!"
The Shooting Death at a Glance
The victim – who was standing in a dark stairwell – was struck by a bullet that ricocheted after being fired from the officer's gun. The officer maintained that the gun had been fired accidentally. In that trial, it was revealed that the officer also failed to provide help to the victim, who lay dying on the floor at his feet.
Why Does Police Negligence Happen so Frequently?
In an earlier blog entry, we spoke of the seemingly non-stop instances of New York police officers misbehaving. In that piece, we noted that among the possible explanations for the recurring episodes are:
The targeting of minorities (the victim in the case discussed above was black)
Increasing militarization of police forces
Minimal consequences for misbehavior
Failure of other officers to act as witnesses against their peers
The Fitzgerald Law Firm Can Help Victims of Police Negligence
We agree with the fact that police officers throughout the country have perhaps the toughest jobs in the country. We also believe that with their badges, they carry an abundance of responsibility. When that responsibility is not upheld, we firmly believe that officer needs to be held accountable.
If you feel that you've been the victim of police negligence, we want you to know that you have legal options available to you. Contact The Fitzgerald Law Firm today – 800-323-9900 – so that we can schedule a free initial consultation.