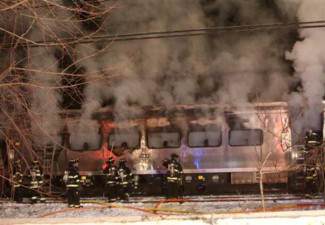 A fatal train crash between an SUV driven by a 49-year-old mother of three and a Metro-North commuter train has been called the deadliest accident in the 32-year history of the commuter rail line. Investigations into the crash have focused on the driver to determine what caused her vehicle to become trapped in the trains path.
Five people on the train as well as jewelry store employee Ellen Brody were killed after her SUV became stuck on the rails between crossing gates. Witnesses report that Brody got out of the vehicle after the crossing gates came down, then got back in and drove forward before the train hit her. There is speculation that Brody may not have realized she was in the train's path due to the darkness of the crossing.
Investigators plan to examine the tracks as well as interview the crew and look at the SUV to determine if it had a data recorder.
Caught On the Rails
Typically, railroad crossing gate arms are designed to be easily broken if a car trapped between them moves forward or backward. They are also designed to lift automatically if they hit a car or other object when lowered. Therefore, there are questions about what happened to cause Brody to become trapped on the rails. The National Transportation Safety Board will conduct the investigation.
Another issue surrounding this accident is the intensity of the fire caused by the SUV's gas tank. The train was traveling at an appropriate speed for the location; experts have speculated that the "third rail," which is electrified, may have bent up and caused the explosion of the SUV, leading to an intense fire in parts of the train.
This is not the first deadly crash at this crossing. Federal Railroad Administration records indicate that a train hit a truck, killing the driver, at this spot in 1984.
Congress passed a law in 2008 that requires all railroads to install positive train control by the end of 2015. This system would use technology such as WiFi and GPS to locate the exact position of a train and to apply the brakes to prevent collisions. However, it is clear that most rail systems will not meet this deadline, prolonging danger to passengers as well as other drivers.
If you have been injured in a train crash, contact the attorneys at the Fitzgerald Law Firm in New York. We can help you understand your rights.