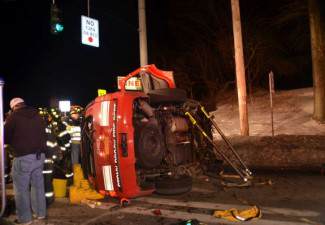 Three people were injured in crash involving a Long Island fire chief's SUV and another vehicle, according to recent reports. Suffolk County police reported that the crash occurred in Hauppauge and closed parts of Route 111 and Route 347 as authorities investigated. Early reports indicated that a man driving south on Route 111 with a passenger in the vehicle struck the SUV belonging to the fire chief of Stony Brook, resulting in a serious crash. All three victims were cut out of the vehicles, which were badly damaged.
The passenger in the vehicle was transported to an area hospital with serious injuries. The driver and the fire chief suffered non-life-threatening injuries. Police are investigating the cause of the crash.
Rating the Severity of Car Crashes
Car crashes are rated as "minor" or "serious" based on two factors: the amount of property damage and injuries to any victims involved in the crash.
While there is some correlation between the amount of property damage and the injuries to the victims, this is not always the case. Many victims are serious injured in crashes in which there is minimal damage to the vehicle, while others walk away from accidents with very few physical injuries even though these crashes totally destroy their vehicles.
It is very important to remember that every crash is different. The amount of personal injury suffered by any given victim is a unique and individualized experience, so no one should make snap judgments based on the "severity" of car crashes.
How Can I Recover Damages For My Car Crash Injuries?
If you have suffered injury due to a car crash, it is likely that you may be able to recover compensation for your pain, suffering, medical bills, lost wages and other costs. However, in order to recover this compensation, you may need the help of a personal injury attorney.
Insurance companies and others often deny victims compensation when they are not represented by an attorney. This is because insurance companies know that the average person may not have the knowledge or skill to navigate this complex area of the law. However, those who are represented by legal counsel often have a much easier time recovering these damages.
Contact the experienced personal injury attorneys at the Fitzgerald Law Firm in New York for more information or to discuss your car accident case and learn how you may be able to recover compensation.