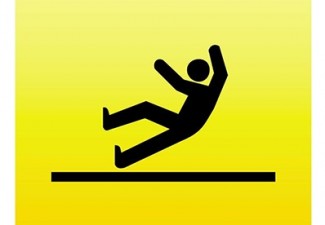 Despite the prevalent public opinion that slip and fall cases are "easy" money, the fact is that they are some of the most difficult personal injury cases to win.  Those who suffer from injuries from a slip and fall accident often have a hard time proving that they are hurt to a degree that allows them to collect damages.  However, despite this fact, many slip and fall injury victims suffer genuine physical and emotional harm and should be entitled to collect compensation.
Two Out Of Three Cases Dismissed
The picture is somewhat gloomy for those who have suffered injuries in a slip and fall accident.  Recent statistics show that up to two-thirds of these cases are dismissed before going to trial.
In order to collect compensation for a slip and fall injury, the victim must often show that:
The floor or other surface was unreasonably slippery or cluttered;
There was active negligence on the part of the building's owner or employees in ignoring an obvious threat;
The building owner or employees were aware of the threat posed by the dangerous surface.
Some cases are won due to a concept known as "constructive notice."  This involves finding a witness who can testify that the property owner was notified before the accident occurred that the surface was dangerous.  If this evidence is presented, it increases the chances of a favorable outcome for the victim.
Can I Collect Compensation for My Slip and Fall Accident?
If you are able to show that the property owner was negligent, it is possible you can collect compensation in your slip and fall accident case.  This may include payment of medical bills as well as sums for pain and suffering and reimbursement of lost wages during the time you are unable to work.
However, proving that the property owner is liable in a slip and fall case is not always easy.  Even if the owner was clearly negligent, there are still hurdles to overcome in reaching a fair settlement or obtaining a verdict.  Many victims benefit from the help of a personal injury attorney like those at Fitzgerald Law Firm in New York.
Call Fitzgerald Law Firm today for a free consultation about your slip and fall accident case.  We can quickly review the facts of your claim and help you understand your rights as well as the best way to pursue your case.  We will put our years of experience behind you to ensure that your rights are protected to the greatest degree possible.