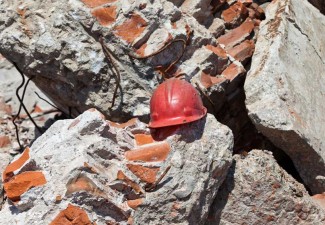 The second fatal construction accident in Manhattan occurred at a building on the Upper East Side when a worker fell 13 stories from a co-op building. The accident occurred when the worker apparently lost his balance and fell from a scaffold at 363 East 76th Street at First Avenue and hit a sidewalk shed. The worker was pronounced dead after being rushed to New York-Presbyterian Hospital.
The building work site has been temporarily closed while the accident is being investigated.
2015 will be the most fatal year in recorded history for construction-related accidents if the current rate of workplace fatalities continues.
The Fatal Four of Construction's Accidents
Construction workers are at a higher risk than almost any other group of workers when it comes to on-the-job accidents. Construction workers make up about twenty percent of all workplace fatalities each year, according to the Occupational Safety and Health Administration.
Of those deaths, nearly 60 percent fell under the category of the "Fatal Four," a grouping of common accident types that includes falls, struck by object, electrocution, and caught-in/between. Falls account for the highest number of construction fatalities by far, with 36.5 percent of all construction deaths in 2013 due to this cause.
While construction workplace fatalities are, of course, the most serious type of construction accidents possible, thousands of workers each year are injured on construction sites as well. Some of these workers recover; others are left with permanent disabilities. When construction workers are injured, they are often encouraged to file a workers' compensation claim without any thought given to the fact that they may be entitled to compensation from a third party through a personal injury lawsuit as well.
Should I File A Personal Injury Lawsuit or a Workers' Compensation Claim?
The law surrounding workers' compensation and personal injury is complicated. It is difficult for most workers to understand when they should file a workers' comp claim and when they should wait to file a personal injury lawsuit. It may be helpful, in this situation, to speak to an experienced attorney like those at the Fitzgerald Law Firm in New York.
Workers who have experienced injuries, as well as family members of workers killed in construction accidents, may be entitled to compensation for medical bills, pain and suffering and other costs. For more information about how to file a claim, contact the attorneys at the Fitzgerald Law Firm in New York for a free consultation.
http://www.crainsnewyork.com/article/20150902/BLOGS03/150909974/fatal-accident-at-ues-construction-site