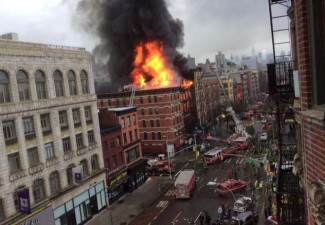 According to fire officials, 22 people were been injured in a high-rise building fire in Manhattan. The blaze began on the 16th floor of the apartment in Harlem around 11:00 a.m. Firefighters fought the blaze for almost an hour.
Ten firefighters have been treated for minor injuries along with six adults and four children. Two adults are being treated for serious but non-life-threatening injuries. Firefights say that the cause of the fire is still under investigation.
Can I File a Personal Injury Suit If I Am Injured in a Fire?
Fire, smoke and toxic gases from fires injure and kill more people each year than all natural disasters combined. Injuries sustained in a fire can cause lifelong physical and psychological harm. Burn survivors often suffer from complications to the cardiovascular, gastrointestinal, neurological, and pulmonary systems, and their injuries can drastically reduce their quality of life.
When someone is injured in a fire, that person could have grounds for a personal injury lawsuit. Common personal injury lawsuits involving injuries from fire include:
Defectively designed or manufactured products which cause a fire
Vehicles with design defects which cause a fire
Workplace injuries
House and residential fires caused by negligence, such as leaving a lit candle or cigarette unattended
The law provides individuals who have suffered burns caused by negligence the right to compensation. If you believe that your injuries were the result of a defective product or the negligence of a person or business, contact the personal injury attorneys at the Fitzgerald Law Firm in New York. Victims of fires could seek compensation for:
Pain and suffering
Medical expenses
Lost past and future wages
Punitive damages in some cases
Recovering from injuries sustained in a fire can be a lifelong process, but it is not something that you have to do alone. When someone is responsible for the fire that caused your injuries, you should not have to pay for your medical expenses and suffer without compensation. Let the experienced and skilled personal injury attorneys at the Fitzgerald Law Firm help you build a personal injury case and represent you throughout the entire process. Our skilled personal injury lawyers understand how difficult it is to recover from burns or other injuries related to fires. We will aggressively represent you and fight for the maximum amount of compensation from the person responsible. Contact us today to find out more.