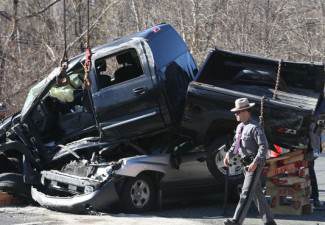 A pickup truck traveling north on I-684 apparently jumped the guardrail and flew into the southbound lanes to strike five cars and land on a Subaru, according to official reports. Police said that incredibly there did not appear to be any life-threatening injuries as a result of the crash, although at least three people were treated for various levels of injuries at area hospitals.
The crash occurred near Exit 6 when the driver of a Chevrolet Silverado lost control, sending the vehicle into oncoming traffic. State police are still investigating the cause of the crash but have said that they may be pressing charges against at least one person. The Katonah, Croton Falls and Goldens Bridge fire departments all responded to the scene and extricated the drivers of both cars. Southbound traffic came to a standstill for two hours while police cleaned up and investigated the scene of the accident.
Head-On Crashes Are Often Deadly
When a vehicle leaves its designated lanes and goes into traffic coming the opposite way, the results are often deadly. Fortunately in this case no one died despite the severity of the crash. However, in New York in 2012, 1,163 people were killed in car accidents and another 169,206 were injured. This represents roughly half of the number of car accidents in New York during that year, meaning that drivers and passengers have a high chance of being injured in a car accident.
Head-on crashes are some of the most serious. According to the National Highway Traffic Safety Administration, in 2008 about 54 percent of the cars in which at least one person was killed sustained some form of frontal damage. More than half of the occupants who died in these crashes were unrestrained by safety belts.
Collecting Damages From A Car Accident
A person who has been injured in a car accident may be able to collect compensation from the driver responsible for the crash. Many victims choose to retain a personal injury lawyer like those at The Fitzgerald Law Firm in New York to represent their interests.
The Fitzgerald Law Firm has a long history of representing the victims of various types of crashes. If you have been the victim of an accident of any type, contact The Fitzgerald Law Firm immediately for a consultation to learn how you may be able to collect payment of your medical bills and other expenses.