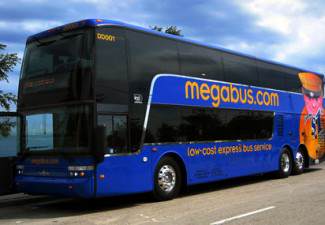 A Megabus headed for New York city crashed into a guardrail on I-95 in Maryland, injuring five people, according to police reports. The bus was traveling from Washington, D.C., to New York City when it ran off the right side of the road and smashed into the guardrail. The driver claimed the bus experienced a mechanical failure.
The bus was carrying 68 passengers, five of whom were taken to Harford Memorial Hospital as a precaution. Interstate 95 was shut down temporarily to allow police to investigate.
Megabus, the company that owns the bus, released a statement that safety was the company's "number one priority." This crash is one of a number of recently intercity bus crashes that have led to New York City enacting a permitting process last May. Bus companies must now register all buses and follow operational guidelines in order to ensure the safety of both passengers and drivers as well as others on the road.
Fung Wah, a popular Chinatown bus company, was found to have buses with structure defects that had not been repaired properly, resulting in crashes. The company has yet to reopen after being shut down due to the new regulations.
Bus Fatalities and Injuries On The Rise
The Department of Transportation has published statistics that show that fatalities due to bus crashes of all types have actually increased in the past decades. According to the DOT, there were 46 total fatalities in all types of buses in 1980 and 67 fatalities in 2008. School buses are included in these numbers.
While the numbers of bus passengers increased from 1980 to 2008, the number of occupants of other vehicles who died in bus crashes decreased during the same period from 390 to 307. This man indicate that safety features on passenger vehicles have advanced at a greater rate than those on buses.
What Should I Do If I Am Injured In A Bus Accident?
If you are injured in a bus accident, it is important that you protect yourself and your family by collecting compensation from the person or company responsible for your injuries. However, that may be difficult to do. Bus companies can have complicated legal structures and it may not be clear who you should turn to for your money.
The Fitzgerald Law Firm in New York can help you. Call us today for a consultation about your bus accident injuries.