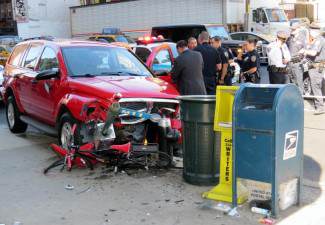 Observers looked in horror at the blood-splattered sidewalk where police say a hit-and-run driver jumped the curb, striking two pedestrians before fleeing the scene. The driver, described as a man in his 30s, has not yet been apprehended according to police reports.
The accident occurred at Tenth Avenue and 34th Street when a red Dodge Durango ran onto the sidewalk, hitting one person and crashing into a pole at a bus stop. The pole then fell over, striking a second victim.
The victims were described as a 44-year-old woman said to be in serious condition and a 40-year-old man in critical condition, both at Bellevue.
Pedestrian Accidents High In NYC
New York City has a very high rate of pedestrian accidents, although not as high as some other metro areas. According to recent statistics, there were 142 pedestrian deaths in the city in 2011, another 152 in 2012 and 156 in 2013. Already in 2014 there have been more than the average number of pedestrian deaths and injuries, and experts believe that 2014's final numbers may be higher than any previous year.
The reason for this steady increase in pedestrian accidents is not entirely clear, but experts have speculated that more people are walking than in previous years and that a larger influx of drivers into the city also puts pedestrians in greater danger.
The number of hit-and-run accidents in the city is also very high. According to recent data, New York City had the most deaths due to hit-and-run, 179, of any city but did not have the highest rate of hit-and-run deaths. That record is held by Detroit, where 5.05 people per 100,000 are killed by hit-and-run drivers each year. Overall, hit-and-run accidents have been increasing in both number and rate each year.
What Can I Do If I Am The Victim of a Hit-and-Run?
If you are the victim of a hit-and-run accident, be sure to contact a personal injury attorney like the ones at Fitzgerald Law Firm in New York. You may believe that there is nothing you can do to collect damages but that may not be true. A personal injury attorney may be able to find other sources of compensation and help you recover money to pay for your medical bills, lost wages and other expenses as well as your pain, suffering and emotional trauma from a hit-and-run crash.