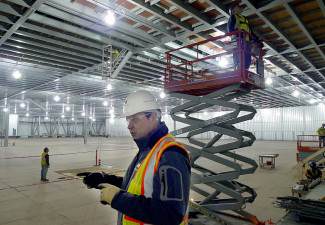 Construction was halted after an accident killed a worker at Saratoga County's $8.5 billion computer chip manufacturing plant owned by GlobalFoundries, according to recent reports. Michael R. Hauf, 54, of Saranac, New York was pronounced dead after he was injured while installing an industrial air exchanger as part of a six-man crew. It is unclear at this point exactly how Hauf was injured or why he died. GlobalFoundries confirmed that an accident had occurred but only added that the site had been secured and no other employers were at risk. Computer chip production inside the plant was apparently not affected.
The accident took place on the location of two additions to the property: a 90,000 square-foot extension and a 560,000 square-foot Technology Development Center for research. This collective expansion is one of the largest construction projects currently underway in New York, employing 3,000 construction workers every day.
An investigation is planned into how the worker was injured and whether there were any safety violations on the part of the sub-contractor, John Danforth Construction, for whom the victim worked or any other sub-contractors or other parties.
Construction's "Big 4" Claim Most Lives In Workplace Accidents
According to data supplied by the Bureau of Labor Statistics, 849 people died in construction-related accidents in 2014. The Occupational Safety and Health Administration cites four common types of construction accidents as responsible for most fatalities. Collectively known as the "Big 4," they include:
Falls. By far the most common cause of death on construction sites is falls, which account for 37 percent of all fatalities. Falls can occur from any height and may involve ladders or simply falling off a high ledge or beam.
Electrocution. Eight percent of all deaths are due to faulty electrical equipment or faulty handling of this equipment.
Caught in or caught between. About two percent of all deaths are due to being caught in or between two heavy objects.
Struck by. About eight percent of all construction accidents are due to the victim being struck by some heavy object, either from above or on the same level. For example, an accident in which a heavy girder dropped on a worker below due to a faulty lift system would fall under this category.
If you have been injured in a work-related construction accident, contact the attorneys at the Fitzgerald Law Firm in New York City.