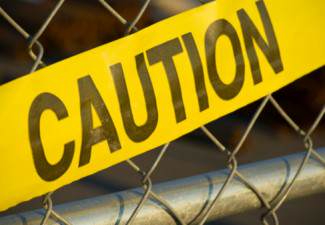 Four workers were injured while taking down a large chandelier in a building on Madison Avenue, according to reports. The building is owned by SL Green Realty Corp, who hired Waldorf Demolition, working under the supervision of Tishman Construction, to perform interior demolition on the property.
Three of the four workers were expected to be released from the hospital immediately, while a four remained at Bellvue in stable condition. A licensed site safety manager was said to have been present at the time of the accident. There is no word on what may have caused the injuries beyond the fact that the workers "fell" while manipulating the chandelier.
Construction Workplace Accidents Top List of Causes
Construction sites are one of the most common places where workplace accident occur. Of the 4,405 work-related fatalities documented by the Bureau of Labor Statistics in 2013, 796 occurred in the construction industry.
The "Fatal Four" refers to four specific types of fatal injuries often sustained on construction sites. These include:
Falls. About 37 percent of all construction deaths are due to falls, making this the most common type of fatal construction accident.
Struck by Object. About 10 percent of all construction fatalities occur when a worker is struck by an object.
Electrocutions. About nine percent of all construction deaths are caused by electrocution.
Caught-in/between. About three percent of all construction deaths are caused by a worker being caught in or between two objects.
Together, the Fatal Four types of accidents account for approximately 60 percent of all construction fatalities.
These numbers do not include innocent bystanders who can also be victims of construction accidents.
What To Do If You Suffer A Construction Accident
If you have been the victim of a construction site accident, whether you are an employee or a bystander, you may be entitled to compensation for your injuries. However, without the help of a personal injury attorney like those at the Fitzgerald Law Firm, you may find it difficult to recover this compensation.
The personal injury lawyers at the Fitzgerald Law Firm in New York will help you fight for your rights. We will assist you in identifying the parties who may be liable for damages. Once these parties have been identified, we will help you pursue a personal injury case against them to recover money to pay for your medical bills, lost wages, pain and suffering and other losses.