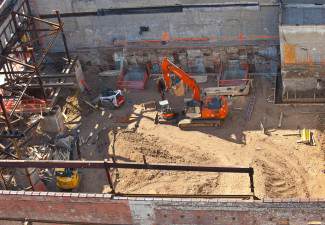 A construction worker died when he was buried by dirt the collapsed at a site in the Meatpacking District of Manhattan, according to recent reports. The unidentified 22-year-old man was buried while working in a hole at the site at Ninth Avenue and West 12th Street when dirt gave way and collapsed on him, according to police sources. He was transported to Lenox Hill Hospital and was pronounced dead after arriving. No one else was injured. An investigation into the cause of the accident is ongoing.
The Difference in Worker's Compensation and Personal Injury
When someone is injured in a workplace accident, there are two possible forms of compensation for the victim and his or her family: a claim against worker's compensation insurance and a personal injury claim. Which one the victim chooses to file depends on the circumstances of the accident and the liability associated with the incident.
There are no hard and fast rules about which type of claim is the most valuable to the victim. However, there are some general facts about these claims that may help the victim determine which type of compensation is appropriate.
Generally speaking, worker's compensation is appropriate if there was no third-party liability. The reason an employer takes out worker's compensation insurance is to pay for injuries workers may sustain on the job. If the employer has been diligent in minimizing the risk associated with a work site, worker's compensation is usually the appropriate choice for compensation. Worker's compensation pays for your medical bills, lost wages and some other expenses.
However, a personal injury suit may be appropriate if there is third-party liability. On the other hand, if there is the possibility that a third party may be liable, it may be feasible to file a personal injury suit against that party. This type of lawsuit can bring you compensation for things that worker's compensation does not cover, such as your pain and suffering.
You may have a suit against a general contractor or property owner if you work for a subcontractor. If you are employed by a subcontractor, you may have grounds for a lawsuit against your employer's employer or the property owner for injuries that were caused by their negligence, even if you file a worker's compensation claim.
Worker's compensation and personal injury suits can be complicated. The attorneys at the Fitzgerald Law Firm in New York are ready to help you fight for your rights, no matter what type of lawsuit is appropriate in your case.