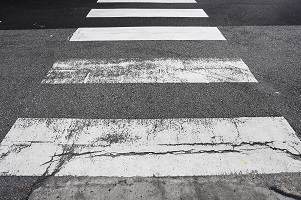 A woman who was struck by a car as she crossed the street has been awarded $111,000 by a jury – more than 3 times what the defendant had offered in a settlement.
We'll talk about the case in this issue.
The Case at a Glance
The woman was struck by the defendant's car while crossing a Dallas street in a marked crosswalk. While her injuries were initially diagnosed as being only soft-tissue in nature, it was eventually discovered that the ligaments in her wrists had been torn and required surgery.
The argument put forth by the defendant's lawyer was two-fold.
The "do not walk" sign was illuminated when the victim initially stepped into the street
The injuries to her wrist were not possible considering the mechanics of the impact
Unfortunately for them, the surgeon who repaired the victim's wrist was on-hand to provide testimony that the injuries were indeed legit.
What The Jury Thought
The jury, not buying what the defendant's lawyer was selling, took only two hours of deliberation to find that the victim was entitled to past and future medical expenses, physical pain and mental anguish, and physical impairment.
The $111,000 award turned out to be more than 3 times what the defendant offered to in a settlement proposal.
Would You Have Taken The Settlement Offer?
The case above is a classic example of having a lawyer on-hand to help you decide whether or not you should accept a settlement offer. As we said in a previous entry, there are potential downsides to accepting a settlement offer, including:
Agreeing to a potentially smaller award than what would have possibly been awarded by a jury
Removing the risk of further liability on the part of the defendant
If You're Injured by Someone Else, Call The Fitzgerald Law Firm
If you feel that you've been injured because of someone else's negligence, call us here at The Fitzgerald Law Firm. There are potentially a host of options available to you, including seeking a settlement.
The first consultation is always free, and our number is 800-323-9900.