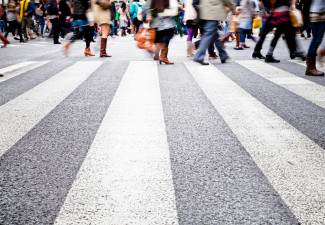 Several children were among the injured pedestrians in a Bronx crash involving a livery car at 194th Street and Valentine Avenue, according to recent reports. The car jumped the curb and slammed into the group of pedestrians in an accident that witnesses described as sounding like "an explosion." Six people were hurt. Three of the victims were children, two of whom are in critical condition. There is no word on the cause of the crash.
Pedestrian Accidents and Children
Children and the elderly are the primary victims of pedestrian crashes, according to the National Highway Traffic Safety Administration. In 2013, a total of 4,735 people were killed nationwide in pedestrian crashes, or more than 12 people per day, and another 66,000 pedestrians were injured. Children are more likely to be injured and the elderly more likely to be killed in the average pedestrian accident; experts believe that this is because children are simply able to recover more quickly from injuries. The total cost of pedestrian injuries to children under the age of 15 in the United States is $5.2 billion per year.
About three-quarters of all pedestrian accidents occur in urban areas, where there are more crowded streets and a much higher volume of cars than in rural areas. While Florida, Texas and California lead the nation in pedestrian accidents, New York boroughs also have high rates of pedestrian crashes.
What Can I Do If I Am The Victim of a Pedestrian Crash?
A pedestrian crash can cause serious injury. You may have suffered broken bones, internal organ damage, traumatic brain injury or spinal cord injury as a result of your accident. You may need long-term physical therapy or other expensive medical treatment, and you may have missed a great deal of work or may even be unable to return to work due to your injuries. In addition, you may be suffering physical pain as well as the emotional toll taken by worrying about the effect this accident will have on you and your family in the future.
It is bad enough to be the victim of a pedestrian accident; it is even worse when the person who caused your injuries, or his or her insurance company, is refusing to pay. Instead of fighting alone to protect your rights, call the personal injury attorneys at the Fitzgerald Law Firm in New York. We have handled hundreds of accident cases successfully and are here to help you.