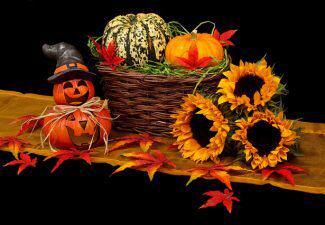 October is the start of a fun holiday season, especially for children. Having cerebral palsy or autism is no reason for any child to miss out on the fun. In this issue, we'll share tips that will make Halloween not only possible but a fun time for all family members.
Talk with a few neighbors ahead of time so they can provide something specific for when the child comes to the door just in case he/she is not that into chocolate or candy.
This way, the child doesn't feel left out of if he/she doesn't like what's offered.  As the parent,you may even want to supply the item ahead of time.
If your child has difficulty communicating, print out a card and tape it to his/her trick bucket.
The message can be along the lines of "Hello, I cannot say 'Trick or Treat' or 'Happy Halloween', but I'm trying. Thanks for understanding and Happy Halloween!"
Throw a sensory-friendly Halloween party!
Children have a natural instinct for playing, but there are many components of Halloween that can be especially unpleasant for children with sensory and communication issues. Some cool ideas for solutions include:
This form of play therapy can be a powerful way for children with cerebral palsy to feel a sense of inclusion. Because playing is perhaps the universal activity that brings the most joy to a child's life, no young person should miss out on it.
If you think a costume may be a problem for your child, let him/her wear what's comfortable.
For many children, helmets, masks scratchy material, face paint, specials shoes or anything scary can be a problem. If your child prefers sweats and a t-shirt, make that your Halloween tradition.
Establishing a trick-or-treating routine can be a good thing.
For children who experience problems with social interaction, making sure they know of a detailed plan for trick-or-treating can be effective. Talk with your child about what to expect and about what time you'll be returning home. Here's a good example you can share with your child about what to expect from trick-or-treating.
The Bottom Line is to Have Fun
Halloween is supposed to be about fun. However, because the comfort of your child should be paramount, don't push them to come out of their shell if they're not ready; there's always next year.