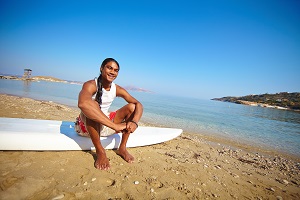 If you're a parent or guardian of an autistic child, you may want to think about registering him/her for an introductory surfing camp this summer.
The camp is called Surfers Healing and is specifically designed for autistic children. We'll talk about it in this issue.
What is Surfers Healing?
Now in its 20th year, Surfers Healing was founded by Izzy and Danielle Paskowitz. The idea was conceived when the Paskowitzes would take their autistic son into the ocean during his tantrums. Through that initial experience, they were able to see the transformative effect water had on their son.
In 1996, they launched their first Surfers Healing camp to children.
On the Surfers Healing website, the Paskowitzes say that "many children struggle with sensory overload; in other words, simple sensations can overload them. The weightlessness and rhythms of the ocean offer a therapeutic experience, a respite from the constant assault on their senses."
What if I'm not sure my son or daughter has the capability to surf?
Children of all ability levels are welcome to take part in Surfers Healing. The skilled and trained instructors meet participants at their level and work with them in terms of their physical capacity.
Where can my son or daughter register for Surfers Healing?

The one-day sessions are scheduled on both coasts throughout the summer. Here are the upcoming sessions and registration information:
San Diego, CA.; July 26
Ocean City, MD; August 16
Virginia Beach, VA; August 18 & 19
Wrightsville Beach, NC; August 21
Folly Beach, SC; August 24
Belmar, NJ; September 10
Lido Beach, NY; September 13
Montauk, NY; September 15
Narragansett, RI; September 16
Honolulu, HI; November (firm date to be decided)
Unsure Why Your Child Was Diagnosed With Autism? Call The Fitzgerald Law Firm

If your child has been diagnosed with an autism spectrum disorder or you suspect your child has an autism spectrum disorder, contact The Fitzgerald Law Firm.
The first consultation is always free and our number is 800-323-9900.