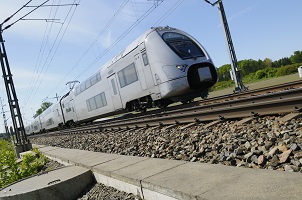 A woman who sustained several injuries when the commuter train she was traveling on derailed has been awarded a jury decision of $6 million in her personal injury claim.
Her injuries included a concussion, back sprain, and neck sprain.
In this issue, we'll talk more about what happened in the woman's case and share information for what to do if you're in a similar situation.
How was the woman injured by the train derailment?
As the Chicago Transit Authority (CTA) train was arriving at O'Hare International Airport, it crashed through a barrier at the end of the tracks.
The woman, riding in the 6th car on the train at the time, had been hanging onto a metal pole ready to disembark when the crash occurred. The jolt caused her to strike the pole and a door.
More than 30 people were injured and about $11 million in property damage was caused.
Who was at fault?
It was later learned that the train operator was a rookie who eventually admitted to falling asleep on the job.
The National Transportation Safety Board (NTSB) cited the CTA for not properly overseeing the operator's work schedule.
Is it possible to sue after being hurt in a train crash?
Yes, if it can be established that the conductor or another party was negligent in the operation or upkeep of the train.
For example, in September 2016, New Jersey Transit train crashed into Hoboken Terminal – killing one woman standing on the platform and injuring 114 passengers on the train.
In that incident, National Transportation Safety Board investigators found a host of safety violations, including:
The train traveling at twice the speed limit just before the crash
Train operators using personal cell phones while on duty
Train crews failing to properly test brakes or blow horns at crossings
Quite a few passengers from the Hoboken incident have filed personal injury lawsuits.
If You or a Loved One is Injured in a Train Accident, Call The Fitzgerald Law Firm
Partnering with a personal injury lawyer skilled in the handling of such accidents is key to you being more likely to receive the compensation you need to get better.
For a free consultation, call us here at The Fitzgerald Law Firm; our number is 800-323-9900.